Increased fines among proposals to curb spate of road accidents
By S. Rubatheesan
View(s):
The National Council for Road Safety has come up with proposals to curb the increasing number of road accidents islandwide, the Sunday Times learns.
"The Transport Ministry is studying our recommendations to set up new laws and regulations with immediate effect to reduce the number of accidents in the country. A decision will be taken by next week following a meeting with the Attorney General before they are sent to the legal draftsmen office," National Council for Road Safety chairman Dr. Sisira Kodagoda, told the Sunday Times.
Dr. Kodagoda said some of the road rules and regulations were outdated as they were introduced decades ago.
Pointing out one instance, he said, under a road regulation law introduced in 1962 a person still is fined only Rs. 25 for reversing onto the main road. "These fines are not effective and we have decided to increase the fine to between Rs. 1000 and Rs 2000.The Transport Mininstry has appointed a 15-member committee called the "Road Safety Council" to finalise the recommendations by the state body, Dr. Kodagoda said. The committee comprises lawyers representing various departments including the police.
According to a survey last year by the National Council for Road Safety at least 2800 died in 36,000 accidents islandwide recording the highest number for the past ten years. The report highlighted the three leading causes for accidents as high speed, reckless driving and alcohol.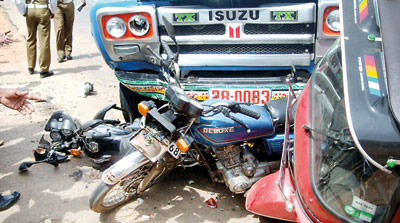 In addition to increasing fines the National Council for Road Safety has also proposed that the permissible amount of alcohol in a driver's body be brought down to 0.004 from 0.08 and the use of latest technology instead of the breathalyser test that is in use now.
"The current practice can be challenged in courts because it is not accurate enough. Our proposal intends to solve this issue by introducing new equipment which can produce accurate results," Dr Kodagoda said.
Commenting on the breathalyser test Deputy Inspector General (rtd.) of traffic, Camillus Abeygunawardena said it was mainly a screening mechanism and the data obtained wasn't accurate enough to use in courts. "In most countries, this device has been discarded with the arrival of the latest technologies such as the "Alco meter". We too should adopt this method for better results," he said.
According to traffic regulations here drink-driving is a bailable offence but the vehicle can be detained by the police if the driver is deemed unfit to drive.