Celebrating Bergman's life and work
View(s):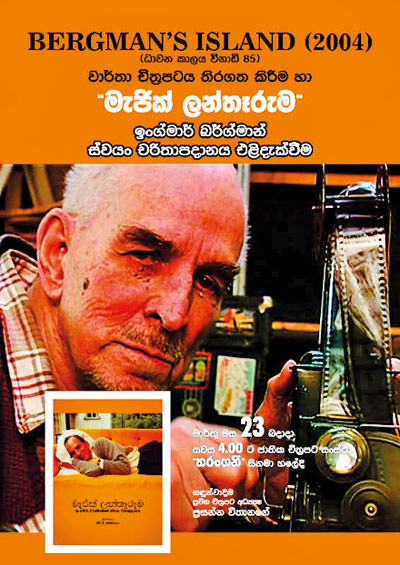 Screening of the documentary, 'Bergman's Island' and the launching of the Sinhala translation of Ingmar Bergman's auto biography 'The Magic Lantern' will be held at 4 pm on on March 23 at Tharangani Theatre at the National Film Corporation.
The introduction for the film is done by renowned filmmaker Prasanna Vithanage.
Just four years before his death, legendary filmmaker Ingmar Bergman sat down with Swedish documentarian Marie Nyreröd at his home on Fårö Island to discuss his work, his fears, his regrets, and his ongoing artistic passion.
This resulted in the most breathtakingly candid series of interviews that the famously reclusive director ever took part in, later edited into the feature-length film Bergman Island.
In-depth, revealing, and packed with choice anecdotes about Bergman's oeuvre, as well as his personal life, Nyreröd's film is an unforgettable final glimpse of a man who transformed cinema.
The documentary is mainly shot in the home of Ingmar Bergman. This is the first time ever that a film maker has access to Ingmar Bergman in his home at the small island Fårö in the Baltic Sea.
Bergman and the cinema starts with Frenzy from 1944 and ends with Saraband in 2003. It contains unique behind-the-scenes material from Bergman's private archive.
Bergman and the theatre is about some of Bergman's 125 theatrical stagings and about his delight with the TV medium with successes as Scenes from a marriage.
In Bergman and Fårö Island he talks about the childhood that shaped him. He shows where he shot his film Persona and fell in love – and he lists his worst demons!