Breaking-up is hard to do
By The Spectator
View(s):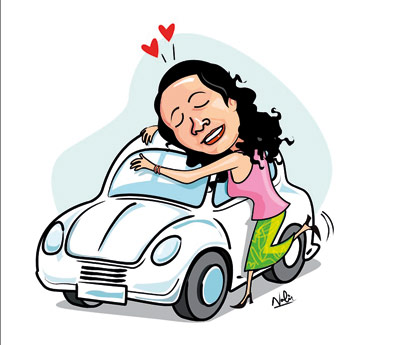 "Humble living does not diminish. It fills. Going back to a simpler self gives wisdom" said Rumi. I was trying to find comfort in these words last week, after seeing my car off with its new owner.
It was the first car I owned so it was a little hard letting go without getting a bit emotional. I had contemplated selling the car for several months but each time it came to the crunch, I backed off but this time it was a done deal.
This may sound shallow to some but the reality is that we humans, being the sentimental fools we are, get attached to non-living, non-breathing things a little more than we should.
Be it our pillows, clothes, books or little mementos, we find it hard to part with them.  In my case, it was my car which had become my little haven, my little luxury.
There was solace and a sense of security I found sitting in my car, breathing in its familiar smell and seeing my stuff strewn all over (yes it's a typical women's car, much like her handbag).
I think the kind of feelings that women have for their cars is very different from the kind of obsessive feelings that men often develop for their vehicles.
I have spotted quite often how men gaze at their cars adoringly, run their fingers tenderly over its body scrutinising the vehicle to see if  there were even a single scratch mark on it.
And while I seldom spent time gazing   lovingly at my car and did not pay it all the attention it deserved, (checking engine oil levels, water levels was better half's domain) it was like a mobile home to me.
I had shoes, jewellery, books, medical reports, bills, receipts, a phone charger, plastic folk and spoons all stacked in.
Over the years that I owned the car, it had become a place my sons would eat, sleep, change clothes in, and at times also do their homework.
It was also a place for great conversations as on many days we would be spending more time together in the car then at home and even if we were together at home, there was no chance of getting two young men to spend half an hour to an hour with their parents in such close confines as inside a motor vehicle.
This "comfort    zone "somehow seemed to make conversation easier.
Driving a car alone gives a person a sense of freedom. I can shout all the expletives at the tons of lousy drivers without holding back my words, not guarded like when I am with others.
I can also sing along to my favourite songs even though I know I don't sound any better than a frog croaking but who really cares when there is no one to hear you.
It's also a great way to 'people watch' especially when stuck in traffic jams.  Bored parents and even more bored kids, haughty looking men and women being chauffeured around, the annoying politicos and their security personnel, romancing couples on the back seat of the bus (I have a vintage point view when I am behind a bus), annoying three wheel drivers and even more annoying motorbike riders who find the most craziest ways to creep through the tiniest gaps.
I know, along with me, several of my friends too will miss my car.  I shuttled quite a few of them to and fro, on late nights and not so early mornings.
The car boot had become a favorite storage place of the spirited kind   and once there were a grand total of four bottles in there discovered by the better half who promptly warned me that transporting more than two bottles of alcohol was a punishable offense.
I once transported two baby star tortoises that a friend  gifted, only to learn later that had they been detected, I would have been in trouble with the law. But that is all the contraband I have had in my car thus far.
So while I write this little sendoff piece for my constant companion of nearly five years, I am having mixed feelings about being car-less. With the tinge of sadness is also a   sense of relief.
For a while, I can ignore the traffic and not worry about the best route to take to avoid being stuck on the road for long periods. I will not have to worry about the car getting stalled without enough   petrol as I am one of those people who waits until the low fuel signal blinks to run to the station to top up.
Flat tyres and parking spaces are also off my radar for now.
Having said all this, I am already looking forward to getting myself a new car, as soon as I can find one I can afford. I hope it will serve me well as my previous car did. Till then I will find solace in the words of Rumi….