MadFan t-shirts – bringing illustration and designs to comic and cartoon fans
By Adilah Ismail
View(s):
At Sri Lanka's first ComicCon held in November last year, MadFan Clothing had completely sold out and were wiped clean in three hours.They had stocked up for the event with a modest 150 t-shirts and the response they had received was overwhelming.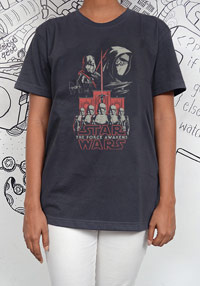 "We didn't even get a chance to set up the table," laughs Nimesh Niyomal, one of the designers at MadFan Clothing.
MadFan Clothing is a creative offshoot of 'We Are Designers', a Design Studio based in Colombo. While 'We Are Designers' engage in all things digital and design – from websites, games, apps and logos – the company also encourages creative projects on the side.
In March 2014 'We Are Designers' debuted a graphic novel – 'The Grey Walker' – and MadFan Clothing is the company's latest creative project to share their creative efforts locally.
MadFan clothing currently sells t-shirts which tap into their team's passions and love for design and illustration. Plans are on the cards to branch out into other merchandise.
The three-man design team at MadFan Clothing each bring years of experience and their own flavour into the design blend. A designer with nine years of experience, Nimesh Niyomal, is a self-avowed Batman addict and a comic book and movie lover. Nimesh's designs are influenced by his interests and his designs usually contain super hero figures.
Tinged with a darker colour palette, Nimesh's t-shirt designs are a visual treat to any comic book fan keen to (literally) wear their fandom on their sleeve. Meanwhile, Dilhan Dissanayake is fascinated by typography and shapes and his t-shirt designs are all explorations with this fascination.
Dilhan plays around with typefaces, fonts, symbols and imagery, intuitively arranging and rearranging type to create interesting designs with cheerful colours.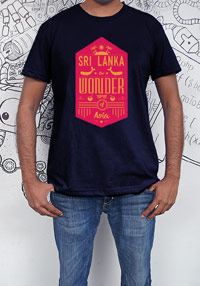 Udara Chinthaka, whose work has been featured in international magazines and local media, rounds up the creative trio, bringing in 15 years of design experience to the helm. A man of few words, Udara let his illustrations do the talking, showing the Mirror Magazine a few of his upcoming designs for MadFan's t-shirts.
There's a remixing of the old and new, which make his illustrations interesting. Udara's brand of illustration is packed with layers and dense with detail and is a nod to traditional Sri Lankan art, bringing old imagery into a new, contemporary light.
What makes MadFan unique is the fact that it goes beyond clothing and is a sartorial celebration of home grown talent. Each t-shirt is a fresh design by the young designers, often customized to an event at a certain point in time. Joe Lenora, Managing Director of 'We are Designers', explains that this was a project the design team was passionate about and that they try and put a new collection every month.
Each t-shirt runs through a limited amount of prints and is carefully designed after weeks of deliberation and being vetted by the team. T-shirts are also designed in accordance to special events, the latest trends and movie releases – a minion themed t-shirt was designed a few months ago while the Star Wars t-shirts are doing the rounds lately.
In a t-shirt design which celebrates Sri Lanka, MadFan eschews the tired image of the elephant which often dominate Sri Lanka related t-shirt images, opting for imagery such as islands, king coconuts and whales.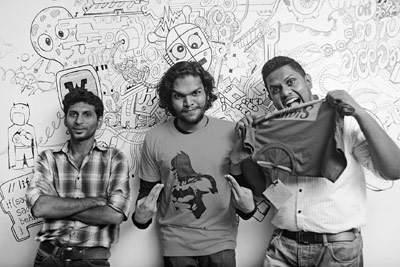 For now, MadFan usually opts for pop-up stalls at events and also sell their t-shirts online. They're toying with a tentative idea for a physical store which could combine multiple design elements and will be releasing more designs soon.
You can take a look at some of MadFan's designs at http://madfanclothing.com/ or follow their Facebook page for updates on new t-shirts – facebook.com/MadFanclothing