Nelson Mendis Challenge Trophy to be held from December 10 to 22
View(s):

The CCC School of Cricket under the guidance of veteran coach Nelson Mendis and its management committee have finalised arrangements to stage the 12th Under 14 International Invitational Cricket Tournament among coaching schools/academies for the Nelson Mendis Challenge Trophy to be held from December 10 to 22, 2015.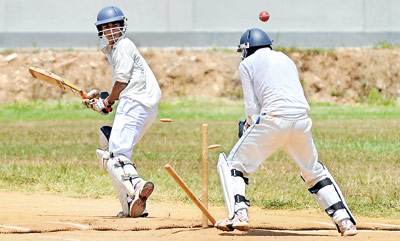 The tournament will be conducted on a league basis in the preliminary round with six groups. Each group will have six (6) teams with the total number of 36 teams in the fray.
The winner and the runner-up of each group will qualify for the Super 12 Round. And they will be divided into four (4) groups of three (3) teams in each group to play in a league basis.
The four (4) group leaders of the Super 12 will form the four semi-finalists and the two semi-final winners will qualify for the finals which is scheduled to be played at the CCC turf on December 22.
A large number teams from the outstations – Kurunegala, Rambukkana, Ambalangoda, Monaragala, Kirindiwela will be taking part in this edition joining hands with cricket academies/schools of Colombo and suburbs with nine debut making teams.
The winners will carry the majestic Nelson Mendis Trophy and Gold medals and the runner-up will receive the CCC Runners-up trophy and Silver medals.
In addition to the two main awards there will be awards for the Best Batsman, Bowler, Fielder, Wicket-keeper and the Player of the Tournament.
Man of the Match awards will be awarded at all Super 12, semi-final and final matches and in addition a special trophies will be awarded to the Best Disciplined Team, and the Best Outstation Team.
Nelson Mendis the Director of the CCC School of Cricket addressing the media at the presentation of sponsorships at the Bishops College Auditorium on Thursday said the motive of staging this tournament annually was to groom the youngsters to be good citizens with the experience they gather from this noble game.
He expects the players to maintain the highest traditions of the game and exhibit top sportsmanship and play the game to the best of their abilities with discipline.
Mendis also said that the CCC School of Cricket which started in 1998 and has been in the forefront of cricket coaching schools/academies in Sri Lanka during the last seventeen years.
Several young talented cricketers who participated in this tournament in the past have graduated to the national junior cricket teams and many of them have represented in Sri Lanka 'A' teams and Under 19 team and Sri Lanka national team.
In conclusion he said that five former cricketers of CCC School of Cricket have so far achieved their dream of representing Sri Lanka during last few years.
They are: Miss Madhuri Samuddhika, the first to earn national cap, Dilshan Munaweera, Kusal Janith Perera, Ramith Rambukwella and Ashan Priyanjan.
- LR