Mayor's cup from Dec 6 to 12
View(s):

To mark the 150th year of the Colombo Municipal Council an Invitational Football Tournament for the Mayor's Cup will be played on December 6, 7, 8, 10 and 12 at the Sugathadasa Stadium.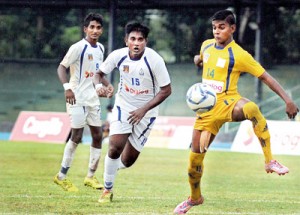 This tournament was organised by the Department of Playgrounds and Recreation of the Municipal Council in collaboration with the Sri Lanka Football Federation.
Top seven teams from the ongoing Premier League had been invited along with a Mayor's XI consisting of players who are knocking at the door to play in the higher divisions will compete in the event.
The teams that had been invited are: Mayor's XI, Java Lane Sports Club, Saunders Sports Club, Blue Stars SC, Colombo Football Sports Club, Super Sun SC, Renown SC and Crystal Palace Sports Club.
The curtain raiser of the tournament will be the clash between Mayor's XI and Java Lane at the Stadium tomorrow at 3 p.m. followed by the second match between Saunders and Blue Stars SC.
On Monday (7th) the Colombo FC meet Super Sun SC at 5 p.m. and the last match of the preliminary round between Renown SC and Crystal Palace is scheduled to follow.
The semi-finals and finals will take place on December 10 and 12 respectively and the winners will receive the glittering Mayor's Cup along with a handsome cash award of Rs. 500,000/- and gold medals.
The runner-up will be awarded with a cash prize of Rs. 300,000/- and the Mayor's Runners-up trophy and silver medals. Each participating team will receive Rs. 50,000/- and the Most Valuable Player of the Tournament will receive a trophy.
This was revealed at the press briefing held at the Mayor's House and the mayor of Colombo in his address said that the main aim of the council is to promote this popular game among the lower middle class to the highest level.
The Playground and Recreation Department maintains a number of playgrounds around the city enabling more players to take up to this game and show their prowess in gaining recognition.
The mayor also said that the aim of fielding a side as the Mayor's XI is to broaden the participation and hope a new era will dawn in the near future for the game of soccer.
-LR