'B' div rugby on the road with 45 games
By Naushad Amit
View(s):
Air Force Chipmunks will take on Army Griffins in the curtain raiser game of the Dialog Division 'B' Inter-Club Rugby League Championship played for the Rudra Rajasingham Trophy.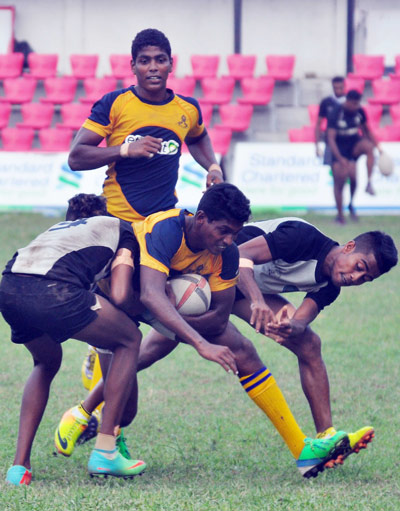 The match will kick off at 4.00pm on at Ratmalana on Tuesday.The tournament which consists of a total of 45 games will proceed with game between last season's runners-up Navy Dreadnoughts taking on Kurunegala RFC at Welisara on Wednesday where another game is billed between two strong outfits Army Colts and Havelock Bambaras at Diyagama.
Defending Division 'B' League title holders Army Blues will take on Army Four Wings in a home vs home affair at Panagoda on Thursday followed by the final match for the week on Friday between Army Wagoners and Army Keterians at Anuradhapura.
The Division 'B' League Tournament, played among ten second string teams is set to run along nine weekends with the final day set for February 11.
Army itself fields five teams, namely defending champs Blues, Colts, Wagoners, Keterians and bottom seed Four Wings.
Navy Dreadnoughts became last year's second overall best team while ranked fifth is Air Force Chipmunks. Havelocks Bambaras comes in to the competition with the placing of eighth while at nine is Kurunegala RFC.
Last season top teams fielded their second string sides but pulled out midway without notification. Eventually Army Blues went on to win the title where Kandy 'B' was recording smashing wins but withdrew their team halfway from the competition. Well known teams featuring in the top division such as CR&FC and CH&FC are the other two teams to have successful seasons in the Division 'B' with their sides famously known Bees and Kabaragoyas respectively.
Week 1
December 8: Air Force Chipmunks vs Police Griffins at Ratmalana
December 9: Navy Dreadnoughts vs Kurunegala RFC at Welisara
Army Colts vs Havelock Bambaras at Diyagama
December 10:Army Blues vs Army Four Wings at Panagoda
December 11: Army Wagoners vs Army Keterians at Anuradhapura

Week 2
December 16:Navy Dreadnoughts vs Army Keterians at Welisara
Air Force Chipmunks vs Army Wagoners at Ratmalana
December 17: Army Four Wings vs Havelock Bambaras at Panagoda
Police Griffins vs Army Colts at Police Park
December 18: Army Blues vs Kurunegala RFC at Diyagama

Week 3
December 22: Police Griffins vs Army Four Wings at Police Park
December 23: Kurunegala RFC vs Army Keterians at Kurunegala
Army Colts vs Army Wagoners at Diyagama
December 24: Havelock Bambaras vs Army Blues at Havelock Park
December 30: Navy Dreadnoughts vs Air Force Chipmunks at Welisara

Week 4
January 4:Army Four Wings vs Army Wagoners at Panagoda
January 5: Army Colts vs Navy Dreadnoughts at Diyagama
January 6:Army Keterians vs Army Blues at Anuradhapura
Havelock Bambaras vs Police Griffins at Havelock Park
Kurunegala RFC vs Air Force Chipmunks at Kurunegala

Week 5
January 12:Air Force Chipmunks vs Army Keterians at Ratmalana
Havelock Bambaras vs Army Wagoners at Havelock Park
January 14: Police Griffins vs Army Blues at Police Park
Navy Dreadnoughts vs Army Four Wings at Welisara
January 15: Army Colts vs Kurunegala RFC at Diyagama

Week 6
January 20: Army Blues vs Air Force Chipmunks at Diyagama
Police Griffins vs Army Wagoners at Police Park
Navy Dreadnoughts vs Havelock Bambaras at Welisara
January 21: Army Colts vs Army Keterians at Diyagama
January 22: Kurunegala RFC vs Army Four Wings at Kurunegala

Week 7
January 26:Kurunegala RFC vs Havelock Bambaras at Kurunegala
January 27: Army Blues vs Army Wagoners at Diyagama
Police Griffins vs Navy Dreadnoughts at Police Park
January 28:Air Force Chipmunks vs Army Colts at Ratmalana
January 29:Army Keterians vs Army Four Wings at Panagoda

Week 8
February 1:Police Griffins vs Kurunegala RFC at Police Park
February 3:Army Blues vs Army Colts at Diyagama
Navy Dreadnoughts vs Army Wagoners at Welisara
Air Force Chipmunks vs Army Four Wings at Ratmalana
February 4: Havelock Bambaras vs Army Keterians at Havelock Park

Week 9:
February 10: Army Blues vs Na vy Dreadnoughts at Diyagama
February 11:Army Colts vs Army Four Wings at Diyagama
Kurunegala RFC vs Army Wagoners at Kurunegala
Havelock Bambaras vs Air Force Chipmunks at Havelock Park
Police Griffins vs Army Keterians at Police Park