Kalpitiya Primary schoolchildren learn under perilous and hazardous conditions
View(s):

Parents complain that students at Kalpitiya Singdrathi Maathaa primary school are in grave danger because the school is situated in a hazardous environment. The Singdrathi Maathaa School, established in 2014, was originally the primary section of the Kalpitiya Nirmala Maathaa Sinhala Maha Vidyalaya.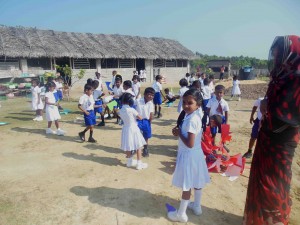 Sarath Chandra Ratna (44), a parent, said that the biggest threat posed is the salty lake bordering theschool.
"There's a very real risk of children falling into the lake, or even wading into it while playing."
Another danger, he said, is a species of mangrove which grows here, the juice of which is highly toxic. "Contact with it can even render a person blind," stressed Chandra Ratna.
Another parent, Anthony Daas Costa (34), said that, in 2014, Rs 7,000 was collected from each parent to construct the school building.
"However, afterwards we discovered that the building had been constructed without a foundation. Now the walls of the building have cracked. Who is responsible if the building (housing over 200 students) is to collapse?
I. Suranjanie (39) said that her child complains of a headache every day on returning from school.
"The school ground has a salty, clayish soil and gets baked throughout the day by intense sunlight. It is not at all a child-friendly environment. My child loved going to preschool, but now refuses to go to school in the morning."
Chandana Pradeep (35) added that the school lacks the most basic amenities such as drinking water and water in washrooms.
"There are no chairs and desks in Grade 1 classrooms. Children sit on mats provided by parents. Lack of space makes children quarrel all the time. It is a very harmful environment."
Nilusha Priyadarshinie said that the schoolchildren come from four to five kilometres away.
"They had a wide choice of government land in Kalpitiya. Why did they choose this strip of land?" she questioned.
When contacted, the principal, Jessilah Elizabeth, said that she informed the Kalpitiya Divisional Education Office and the Puttalam Zonal Education Office, on the day she assumed office, of the unsafe buildings.
"Previously, these school premises were in an even more perilous condition. I am a past pupil and I remember the school was virtually inside a cactus grove."
She said she believes it best to develop the present ground, rather than move to new premises.
When we inquired from the Divisional Education Officer, Kalpitiya, Nuhoor Lebbe, he said the school is to be given new buildings this year, and that the Wayamba Province Education Ministry has been informed of the unsafe building.
Pix and Text by Padma Kumari Kankanamge