Been there, done that, say apathetic Mullaitivu voters
By S. Rubatheesan
View(s):
Mullaitivu, a hotspot during the war, seems to be saying "no thanks" to one of the dividends of peace – the freedom to vote in local council elections – with a lacklustre campaign ending next Saturday for two councils up for polls.
The voters of Puthukuduirippu and Maritimepattu are not actively engaged with any of the parties campaigning in the elections, said People's Action for Free and Fair Elections (PAFFREL) Executive Director Rohana Hettiarachchi.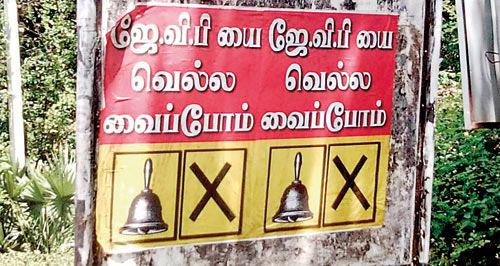 "The elections will be held very peacefully but I'm not sure about the voter turnout," Mr. Hettiarachchi said.
Another election watchdog, the Campaign for Free and Fair Elections (CaFFE) said one reason for the lack of interest is that many candidates have crossed over to other parties or left the country.
Voters in Puthukudirippu and Maritimepattu had geared up for elections in 2011 but these were unexpectedly postponed by the Court of Appeal following a writ application by citizens who wanted demining and resettlement of people displaced by the war completed before polls were held.
The list of nominated candidates drawn up in 2011 is the one put forward for next Saturday's elections. The candidates, however, have – especially since January's presidential election – crossed over to other parties or are not even in Sri Lanka, leaving voters uncertain about who to vote for this time around.
There was no evidence of a vibrant campaign by any party in the district.
"The Tamil National Alliance (TNA), United National Party (UNP), Sri Lanka Muslim Congress (SLMC), and the People's Liberation Front (JVP) are conducting pocket meetings and house-to house-campaigning in the area in a very small way," said CaFFE Executive Director Keerthi Tennekoon.
The Sunday Times noted, however, that there is active telephone and SMS campaigning going on among local youth.
Some of the candidates are calling the residents in their respective areas directly and urging them to vote for them, and SMS messages are being circulated and shared.
CaFFE said the Mullaitivu district had seen the worst destruction in the final phase of civil war and, sadly, many infrastructure projects and development had been held up due to the lack of functioning councils.
PAFFREL noted that, out of 335 local councils around the country, elections for these two councils had dragged on a long time, which has put the entire district back in terms of development and reconstruction.
"We have initiated 10 voter education programmes with the assistance of the Elections Department on how each council functions and how important they are for the people," Mr. Hettiarachchi said.
The SLMC has fielded 15 candidates for 12 seats in the Maritimepattu area, where a significant number of Muslims live. Group leader A. Hussain expects the party to secure at least two seats.
Kumaravelu Rajendran, a UNP candidate who has lost his wife and daughter in the final stages of the war, said he was very confident that the people of Puthukuduirippu would elect him because he had committed himself to social service to the area.
"I started my election campaigning activities when the Elections Commissioner announced the elections," he said.
Mr. Rajendran said there were rumours that, as happened in 2011, "some political elements of former governments are trying to postpone the election".
Anthony Jeganathan, a TNA Northern Provincial Council member who had put down his name as a candidate in the Mullaitivu local council elections three years ago, said the party was campaigning effectively in this Tamil-dominated district.
"I cannot contest this election since I am a provincial council member but I am campaigning for other candidates of my party," he said. "Our campaigning is relatively very small but I think it is very effective."
Early this week the TNA group leader for the Maritimepattu council poll, Kanagasundaaswami Veerawahu, who went on to contest and win a seat in Northern Provincial Council elections, died from a protracted illness.