Hotel built on villagers' sweat and tears
Text and pix by U. Wijesinghe in Pottuvil
View(s):
Four years ago, the villagers of Ragamwela in the Lahugala divisional secretariat experienced an act of cruelty that in an instant deprived them of all they possessed. They have not, even now, recovered from the shocking events of that morning of October 17, 2010.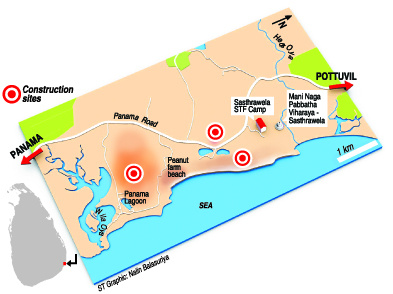 The story of Ragamwela goes back to 1971 when the then government granted villagers land to cultivate peanuts. The Agriculture Insurance Board also granted credit to the villagers as they could not meet expenses.
Although all the villagers had rightful title deeds to the land they were given, the greater number of deeds was destroyed when the LTTE set fire to the Lahugala Divisional Secretariat. The consequent pleas of villagers to be given their title deeds produced no results.
Through 30 years of war the villagers maintained their peanut plantations amid hardship. Once the war ended, they had hopes of better times to come.
But on that October morning in 2010, tragedy struck: masked bandits with firearms began setting fire to the modest houses of the villagers and the victims fled for their lives – not even the village temple was spared by the bandits, who destroyed everything.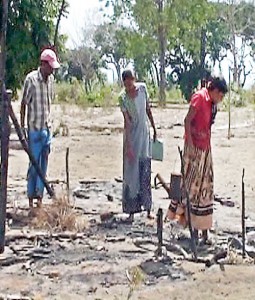 Entreaties were made to the Pottuvil police but to no avail. The villagers then met the divisional secretary of Ampara,
who informed them that the area had now been declared a no-man's land. Not even the Buddhist priests were allowed to enter their temple – although it was noticed that tourists lodging in a hotel nearby were given free access to the area.
It was later that the villagers realised that their land was being used to put up a luxury hotel complex under the supervision of the navy and the air force.
The complex includes three bungalows meant for VIPS, with a swimming pool for each, 14 other large bungalows, 22 twin-bedroom bungalows and 18 single-room bungalows.
The complex was named the International Co-ordination Centre by the last regime.
Officials at the Divisional Secretary in Lahugala said the land, extending up to 1,000 acres, had been released on the instructions of the Presidential Secretariat.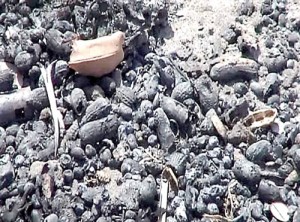 A senior officer claimed the construction was being carried out on a state land and the villagers had been squatting on the land.
Prime Minister Ranil Wickremesinghe, last week addressing a meeting in Galle, said construction of the complex had commenced without parliament approval.
Mr. Wickremesinghe said the new government had stopped the construction of these complexes with immediate effect and ordered an investigation.
The villagers said they had no access to the area after they were driven out and boards had been put up stating the property belonged to the security forces.
The new military spokesman, Brigadier Jayanath Jayaweera, told the Sunday Times he needed to check with the Defence Ministry before making any comment.