Kimiko the third star rising from Rahim
Wins platinum award 2014
View(s):
Sri Lanka's teenage swimming sensation Kimiko Rahim was awarded the Platinum Award 2014 for her outstanding performances in swimming, national and international level by at an awards ceremony held recently.
She hails from a family of swimmers as her elder sisters Mayumi and Machiko too are outstanding swimmers who have represented Sri Lanka in national and international competitions. A product of Asian International School, Kimiko established three new meet records at the recently concluded Inter International Schools Swimming championship meet held at the Sugathadasa Swimming Complex recently.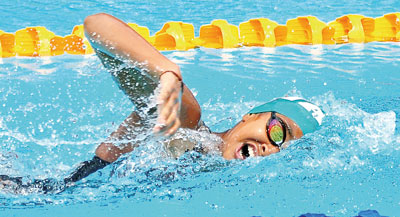 First in the Girls' 14-15 200M IM Group 2 event she bettered her own record established in 2013 with a time of 2.37.16 and in the same age group Kimiko broke the record held by Kuvira Manamperi (CIS) in the 100M LC backstroke with a new time of 1.06.00 and finally in the 50M LC Freestyle she set up a new record with a time of 28.27 secs lowering the record time held by Tashiya Diyas (Gateway) in 2010.
This youngest Rahim sister was a semi-finalist at the 100M Backstroke event at the 2014 Commonwealth Games in Glasgow. The proudest moment of this Asian International School student was when she bettered the SAF Games record of 27.70 set by India's Lekha Kamath during the 2006 SAF Games held in Sri Lanka.
At the National Swimming Championships Kimiko clocked 27.25 breaking the previous record of 28.28 set up by Menaka De Silva in 2003. This 14-year-old swimming star qualified for the Youth Olympic Games held in Nanjing, China 2014 at the 4th FINA World Junior Swimming Championships in Dubai.
As a youngster of 13 years Kimiko Rahim set a new national record in the Women's 100 metre Backstroke when she clocked 1.07.90 breaking the previous national mark of 1.09.62 set by Nadeera Jayasekera in the National Age Group meet in 2012. In 2013 Kimiko came out with flying colours at the SAF Games in India to set up a new national record of 2.30.12 in the 200M breaking the previous record of 2.31.02 set up by Dipika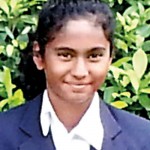 Chanmugam in 1990. Chanmugam won 7 Gold medals in the 1991 SAF Games in Sri Lanka, where the host nation became top among the SAF nations by winning 41 gold medals overall.
In the women's 50M Butterfly event Kimiko defeated Sri Lanka's 2012 London Olympian Reshika Udugampola to set another new national record clocking 30.67 set earlier by 19-year-old Udugampola who clocked 30.83 in 2011. She also holds the National record in the Girls' 50M Backstroke event too.
Her biggest ambition is to represent Sri Lanka at a future Olympic Games event like her elder sister Mayumi. Mayumi won Gold medals in the women's 50, 100 and 200 Ms backstroke events at the 2006 South Asian Games held in Colombo and represented the country at the 2008 Beijing Olympics. Her other sister Machiko Rahim too represented Sri Lanka at the Youth Olympics.
- Lakshman Ranasinghe
Adding to the pride and glory that brings to the Asian International School by these sisters the AIS added another feather to their cap by organising a highly successful Inter International Schools Swimming Championship 2014 to coincide their 25th Anniversary celebrations. – Lakshman Ranasinghe