Bared: Sex workers' vulnerabilty
By Chandani Kirinde
The necessary evil that saves abandoned women from destitution
View(s):
The brutal attack on a female sex worker by a policeman in Ratnapuara town recently, has helped expose the sordid and pitiful life of such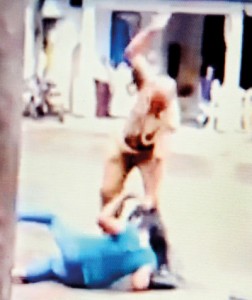 women, an issue that authorities prefer to keep unaddressed and hidden, despite the stark reality that thousands of women engage in the flesh trade in the country.
The story of 35-year-old Weerasinghe Arachchilage Kanthilatha who was the victim of the police attack, is the untold story of thousands of women who have been driven by poverty to engage in the sex trade, but lack of adequate laws to protect them means most of them are subject to both physical and verbal abuse, as well as harassment at the hands of the Police.
"I began this line of work as I needed money to feed my two children," Kanthilatha told the Sunday Times. She became a mother around the age of 16, after a relationship with a young man she befriended. They married subsequently and she had another child, but soon the man deserted her leaving Kanthilatha and the children to fend for themselves.
It was a relationship she developed subsequently with another man, which led to her entry into the world of prostitution. "He brought me to the Maharagama area on the pretext of getting me a job, and we stayed in a small hotel there for about two weeks. This was some years ago. One day he went away leaving me there, and never came back. The hotel owner told me there was a big unpaid bill, and to recover the money, I would have to sell myself. This is how it started," she said.
Later, Kanthilatha went back to her hometown in Ratnapura, and was soon a regular among the sex workers operating around the main bus
stand in the town.
According to Kanthilatha, her run in with the police sergeant was because she declined his request for a sexual favour. His threats to "teach her a lesson" materialised a few days later, when he brutally assaulted her with a cane in public. He is now under interdiction, following a video of his attack on Kanthilatha being uploaded on a social media network and going viral, which led to a public outcry that forced the authorities to act. (See BOX story) Kanthilatha, with the assistance of a group of young lawyers, has also filed a Fundamental Rights petition in the Supreme Court, citing violation of her rights enshrined in the Constitution, which include her right to equal protection of the law, as well as freedom from torture or cruel, inhuman or degrading treatment.
Attorney–at-Law Udul Premaratha who filed the petition on Kanthilatha's behalf, said that, instead of recording a complaint she attempted to make at the Ratnapura police after the incident, several policemen had coerced her to accept some money and forget about what transpired.
"Unfortunately, people like her are judged because of their lifestyle and work, and cannot expect to get fair treatment. The existence of sex workers is a reality that is not openly addressed," he said.
According to the 2013 Annual Report on Sexually Transmitted Diseases (STD/AIDS) Control programme under the Ministry of Health, there were 14,130 female sex workers registered at their clinics islandwide. The highest were from Colombo with over 6,000, while Gampaha, Polonnaruwa, Ratnapura and Kandy also had substantial numbers on record.
A survey done in 2013 had also recorded 3,683 sex worker hotspots, and found the majority of them were street-based than brothel-based sex workers (42%vs 2%).
Despite the openness with which Health authorities have chosen to address the issues of sex workers, the law enforcement authorities have been less forthcoming. To overcome this, the STD/AIDS Control Unit has been conducting awareness programmers for police officers among others, to "improve harassment-free law enforcement practices for sex workers."
"This programme has helped create an enabling environment to promote HIV prevention activities among sex workers. As a result, arbitrary arrest of sex workers for being in possession of condoms, has reduced, and the use of condom as an HIV prevention tool, understood," the Unit's report said.
If not for the emergence of the video of the attack on her, Kanthilatha's story may never have been told. "People like me cannot take on the police. I don't have that kind of strength," she said.
Ironically, at least two protests were held in Ratnapura town, led, among others, by three-wheel drivers, against Kanthilatha and other sex workers who operate in the area, after the video emerged. "These are the very people who benefit from us. They find clients for us and also take a cut from our earnings, and then protest against us," she said.
While Kanthilatha is hopeful that the video evidence will help bring her justice, it leaves open the wider question of whether the thriving sex trade in the country will continue to be ignored, or more protection and safety will be accorded to those who engage in the trade.
Spokesman: Attack not reflective of general conduct of policePolice have launched a disciplinary inquiry and a criminal inquiry into the conduct of the Police Sergeant involved in the attack on a sex worker at the Ratnapura Bus Stand last month, Police spokesman Ajith Rohana said.

He said the officer had been interdicted, pending the conclusion of the inquiries.

SSP Rohana said the incident was an unfortunate one and was in no way reflective of the general conduct of those in the police service. "There are 84,000 police personnel and unfortunately one or two can get involved in such incidents," he said.

The SSP added that training and awareness programmes were held regularly for police personnel with the aim of sensitizing them to the needs of the public.