50 northern undergrads' Jaffna-Colombo 'cyclathon' raises funds for heart surgery
View(s):

Flagged off after seeking blessings from the Nallur Kovil in Jaffna, around 50 undergrads of Jaffna University who set off Friday on their cycles for a worthy cause to raise funds for those needing heart surgery in the north, are on their last lap today.

They will arrive in Colombo this afternoon, and joined by the 'Peddle Pushers', wind up their cycling marathon at the Royal College Skills Centre around 4 pm.
The Jaffna undergrads are cycling to raise funds for the Oxonian Heart Foundation (OHF), a charity comprising professionals from all communities and headed by Cardiothoracic Surgeon Dr Ravi Perumalpillai from Oxford. The OHF launched open-heart surgery for the needy at the private Northern Central Hospital in Jaffna on July 6.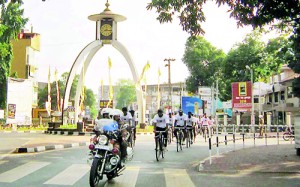 The 'Cycle for Life' group set off on Friday from the Jaffna District Secretariat, after Northern Chief Minister C.V. Vigneshwaran, Minister Douglas Devananda, Jaffna Mayor Yogeshwari Patkunaraja, Jaffna University Vice Chancellor Vasanthi Arasaratnam, Northern Provincial Council Opposition Leader S. Thavaraja, Senior DIG Northern Province Pujitha Jayasundara, Northern Central Hospital Chairman S.P. Samy and Dr Perumalpillai accompanied the cyclists from Nallur Kovil in a procession.
After the flagging-off ceremony, heads bent low and paying scant regard for the heat, the cyclists set their sights on Vavuniya, on a rotation system. Their route from Jaffna took them through Chavakachcheri, Meesalai, Kodikamam, Mirusuvil, Muhamalai, Pallai, Iyakachi, Elephant Pass, Paranthan, Kilinochchi, Murikandy, Mankulam, Kanakarajankulam, Puliyankulam, Omanthai and Thandikulam to Vavuniya where they spent the night.
Yesterday saw them cycling from Vavuniya to Medawachchiya, Anuradhapura, Talawa, Tambuttegama, Galgamuwa, Ambanpola, Daladagama, Wariyapola and Kurunegala.
Setting off from Kurunegala, where they spent last night, they will pass through Polgahawela, Alawwa, Ambepussa, Warakapola, Pasyala, Nittambuwa, Yakkala, Miriswatte, Kadawatha, Kiribathgoda, Kelaniya and Peliyagoda, reaching their destination in Colombo thisSunday afternoon.