Striking union wants all teachers and principals to join action
View(s):

The Teachers and Principals Trade Union Joint Committee is calling other teachers' and principals' unions to join them in industrial action next month.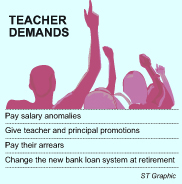 Lanka Teacher Services Union General Secretary, Mahinda Jayasinghe, said other education representative bodies such as the Private Teachers Services Union and the Independent Ceylon Teachers' Union have been asked for support in the forthcoming fight.
Mr Jayasinghe, a recently appointed JVP Western Provincial Council member, said hs union had informed the government about the planned action and given the authorities this month to settle all "broken promises".
"Since 2009, principals have not been given promotions. The Education Ministry also failed to give promotions to teachers since 2010. Consequently they did not award any salary increments, and this has affected teachers in many ways," he said drawing reference to the rising cost of living in the country.
Mr. Jayasinghe demanded that government award these promotions and settle all arrears. He said that salary anomalies had not been settled and the Ministry had failed to implement an interim proposal that was agreed upon following discussions between the ministry and education trade unions in 2008.
"Though the interim report is not the perfect solution we are asking the ministry to adopt it even now," he said adding that the anomalies had remained unsettled for 17 years. He also said that the recent act to transform gratuity payments to retiring public sector employees as a bank loan had directly affected education sector workers.
"The largest number of workers in the public service is in the education sector – there are more than 225,000 teachers and principals in Sri Lanka. The new loan system will mostly affect our people," he said.
He explained that the new system did not profit public servants as it was a scheme to cut off money given as gratuity. Mr. Jayasinghe said teachers and principals were facing hardship as a result of various programmes adopted by the ministry.
Explaining that the school base assessments were taking most of the teaching time, he said schoolwork had been affected. "We are not saying that assessment should not be done but that it should not take time allocated to schoolwork," he threatening to go on a trade union action by the beginning of next month if the ministry failed to settle their demands.
The Minister of Education, Bandula Gunawardena, disregarded the threats of industrial action saying the union was a politically-motivated movement.
He said that the government had appointed a committee – the Mahinda Madihahewa Committee – to look into the matters raised.
-A.W.