Emotional abuse by teachers can scar students for life
By Aanya Wipulasena
Public haircuts, ritual shaming is no way to treat youth says expert
View(s):
Cases of emotional abuse of students by teachers are on the rise even though the Education Ministry has banned corporal punishment.
Last week, two teachers dragged a Grade Six student of Vavinna Junior school in Wattegama into a room in front of her friends and cut her hair short claiming it was untidy.
The humiliated student screamed but the teachers ignored her protests student's plea. They forced her to throw away her shorn hair.
Her grandparents said the child came home crying and saying she was afraid to go back to school.
On Monday, the two female teachers were arrested after the child's parents lodged a complaint with police. They were charged with disorderly conduct.
The teachers were released on bail of Rs. 25,000 each and ordered to be in court again on August 6.
The incident came three weeks after a teacher forced a child to wear her slippers around her neck because wearing them to school was against school regulations. The child had worn slippers to school because her shoes were torn and unwearable.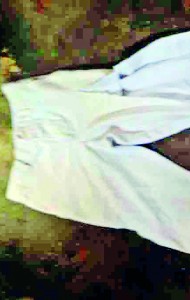 The incident took place in Serunuwara, Kantalai and the teacher was exposed when the student's mother lodged a complaint at the police accusing that the event had instilled fear in her child who was refusing to go to school.
The female teacher was later transferred from the school. The Eastern Province Education Minister Wimalaweera Dissanayake claimed that it was wrong to criminalise the teacher over the incident although the decision to simply transfer her did not mean her action was justified.
In a separate but similar incident a male child was sent home by his teacher in cut-open trousers in the first week of November last year.
The Grade 11 student of Denipitiya Weligama Madya Maha Vidyalaya was humiliated in front his school mates when his teacher slit his trousers deeming they were too tight.
His parents said that the student came home crying and refused to go back to school as he was embarrassed.
This was not the only trouser-slitting incident that took place last year. The principal of Rajarata Maha Vidyalaya, Polonnaruwa had cut open the trousers of 15 Grade 11 students during school assembly, claiming the clothes were not suitable for school.
There have been more than 10 reported instances of teachers punishing students in humiliating and improper circumstances. Police said there could be other incidents that went unreported by parents.
"It is important that we understand adolescents as a separate category because they are very sensitive to issues. They are concerned about themselves, their appearance, and their potential and abilities. If one criticises them in public it goes a long way, and a very bad way," said Dr. Swarna Wijetunga, Child Psychiatrist at the Lady Ridgeway Hospital for Children.
She said this could result in students becoming very violent and problematic or withdrawn and very shy. She said these actions could impact the student's future directly. The psychiatrist explained that it is very important that teachers understood their students and dealt with them in a suitable manner.
"Students at this age are not thinking rationally especially when they are faced with a stressful event. They become more emotional," Dr. Wijethunga added, explaining that teachers can affect the student's personality formation, emotions and thinking.
Dr. Wijetunga also said that she came across children who were healthy but were affected by the teacher's behavior in school.
"There was a child brought to me who was very talented in drawing. She would draw the teacher and other things. The teacher saw this as a nuisance and rather than setting a limit to her drawing work she made a lot of negative remarks. The child found this very traumatic and was brought to us because she refused to go to school," Dr. Wijetunga said, adding that teachers should be careful of how they are dealing with students.
She also called the media to be cautious about reporting these cases where children and adolescents are concerned because making their pictures and videos public could further embarrass the child and cause more psychological harm.
Arrogant councillor who forced teacher to kneel brought to his knees in court
By Hiran Priyankara Jayasinghe
The former Provincial Council (PC) member who made a teacher kneel before him was brought even lower this week when he was sentenced two year Rigorous Imprisonment suspended for seven years.
Ananda Sarath Kumara was also fined Rs. 50,000 by the Puttalam Magistrate and asked to pay Rs. 300,000 in compensation to the schoolteacher he humiliated, Priyani Susila Herath.
Ms. Herath was backed by several teachers' unions including the Ceylon Teachers' Union and the All-Ceylon Graded Principals Union. The lawyer who represented the teacher, Priyantha Gamage, had not charged her for his
service.
Her story grasped the country's attention when she was humiliated by Kumara on June 14 last year.
Ms. Herath, who was the teacher in charge of discipline in Navagattegama Navodya School, had directed two prefects to lengthen the dress of the PC member's daughter as she found that it was too short.
The aggravated PC member and his wife accused the teacher of causing humiliation to their daughter in front of the school. Kumara made the teacher to kneel in front of him and ask for forgiveness for her actions.
Ms. Herath lodged a complaint with the Navagattegama police and the PC member was arrested the day following the incident. He was released on bail on June 27 but was again arrested and remanded until August 8 after he broke court orders by threatening the teacher and her family.
In an interview the Sunday Times had with Ms. Herat after the incident she recalled it as one of the most humiliating and dreadful experiences she faced in her life.