Enter babul, beeda and mawa into the classroom
By Nadia Fazlulhaq and Matale Corr. Mahesh Keertiratne
View(s):
To most school-going children, babul, beeda and mawa may sound like names from their science text books.
However they are not. These substances have begun to infiltrate the classrooms causing concern among school authorities, police and parents.
This week, in Matale, Consumer Affairs Authority (CAA) officials raided several places in the heart of the town on a tip off that babul and another intoxicating substance, mawa, a concoction of arecanut, tobacco and artificial colouring were being sold to school children and young men in the area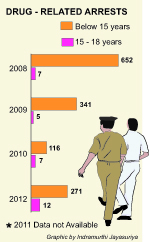 Matale CAA chief raiding officer, M.J.Samantha said several dealers who were apprehended would be produced before the Matale Magistrate.
Babul, pan parag, beeda, and mawa have been banned under the Tobacco and Alcohol Control Act of 2006.
Last week, President Rajapaksa had asked Police Chief N.K. Illangakoon to instruct police stations near leading schools in town areas to be vigilant and take action against dealers in these substances.
President's media division said the order followed a number of complaints from parents and school authorities.
According to the National Dangerous Drugs Control Board's statistics, in 2012, 12 children under the age of 15 and 258 between the
ages of 15-18 were arrested for the possession of cannabis. The same year saw 4803 youths between the ages of 19-24 also were taken in.
National Dangerous Drugs Control Board (NDDCB), Director General K. Gamage said youths between the ages of 16-24 were the most vulnerable and steps were being taken to address the problem.
"Awareness programmes are being conducted in schools, universities and workplaces highlighting the dangers of narcotics," he said adding that private sector managements should be vigilant of their young employees as drug abuse was taking place in offices too.
According to the Drug Dependent Persons (Treatment and Rehabilitation) Act, in case of a minor, the parents or guardian could seek treatment at a rehab centre on their behalf.
Mr. Gamage said at present the rehab centre for those under 21 years has about 20 inmates, the majority of them being ordered by courts to be sent for treatment.
Meanwhile, the NDDCB along with the Police Narcotics Bureau (PNB), are conducting surveys and are involved in detecting narcotics usage among young people in bars, clubs and other places of social gathering. The bureau has so far for this year conducted about five awareness programmes for students.
PNB's first chief and former deputy inspector-general (DIG) of police, Anton Jeyanathan told the Sunday Times that school-based awareness and prevention programmes should be made interesting so that the message of the dangers of drug abuse is conveyed effectively.
"Once I took a drug dependent (drug addict) to a leading school for an awareness programme and he shared his desperate moments and regret over being addicted to drugs. This was so effective, that even though I have been retired now for over 15 years some students still recognize me as the police officer who got a drug addict to share his story," he said.
Mr. Jeyanathan said police OIC's have a lead role to play in preventing drug dealing in their respective divisions.
He said although there is a strong campaign against the use of tobacco not enough was being done to drive home the ill effects of narcotics. " The military and police both should work together to prevent the supply of drugs," Mr. Jeyanathan emphasised.