Letters
View(s):

Noise pollution: Police turn a deaf ear

I have been in this beautiful country travelling from place to place but the unbearable noise of the bread seller has been disturbing. Bus drivers and tipper drivers use their loud horns at junctions and traffic lights but the Police turn a deaf ear.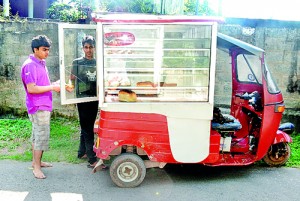 I was shocked to hear the annoying sound of the bread van in a beautiful area near the parliament complex. I was told that this place was newly developed by Defence Secretary Gotabaya Rajapaksa. I was also told about his good intentions and that he, in his magnanimity, had not even had his name on the plaques or inauguration stones at the parks around the Parliament complex.
The tranquil atmosphere created by him is not even considered by Chune Pang or noisy three-wheelers selling bread and short-eats. The early morning walkers and joggers are disturbed by the noise from these "Chune Pang" vehicles. They start as early as 5.45 a.m. and then again from 2.30 p.m. playing even Christmas Carols as their call tunes.
When the Police are contacted, they say they do not hear. This is because they take time to come and by the time they come to the spot, the bread vans are gone. Considering the numerous occasions where we have heard this, it appears that the Police do not care. As such does Sri Lanka need a police force?
Little or no action is taken against killer buses and tippers. I was told by my driver who is a supporter of the President and his party that the police are not interested as they are beneficiaries of lawbreakers such as killer buses, tippers and, of course, the bread three wheelers and vans.
Friedrich Khum
Stamped upon?
Postal stamps are being issued to commemorate or honour past — and sometimes present — distinguished persons.
It is indeed a worthy act of honour. But when these affixed stamps are cancelled in post offices, it is one hard blow with the date stamp onto the face of the dignitary's image — hombata damala aninawa. That indeed is not an honourable act. Is not there any other method to cancel these stamps?
Nimal Jayasinghe
Maharagama
God does not live in buildings
I write this in response to M.V. Noel de Silva's letter that appeared on March 23.
Permit me to point out that the 'divine' according to the Bible does not live in buildings. One does not become a Christian by birth, or by attending church, praying or following any ritual or tradition. "Not everyone that saith unto me Lord, Lord, shall enter into the kingdom of heaven," said Lord Jesus, (Matthew7:21). Then he said, "Except a man be born again, he cannot enter the kingdom of God" (John 3:3); "When one is forgiven by God Himself, the Spirit of God indwells in that person, then and then only he is 'born again. i.e. 'born of Spirit'. (John 3:5) and one becomes a Christian and by no other means.
If wearing footwear dishonours God, a true Christian will need to be barefoot all the time, for God is "within Him" and not in buildings made by man. The concept of God to a Christian is far different to that of other religions. One honours God not by removing footwear before entering a place of worship but by keeping His commandments.
Bernard Premawardhana
Gonawala
Moneymaking cricketers: What Ryp did not say
Every Sunday morning, I take the Sunday Times and read the 5th Column by Ryp Van Winkle as it is my favourite Sunday article. He has the knack of taking an important current topic (mostly controversial ones) and giving it a humorous twist, but an in-depth analysis which is always right on target.
But I was disappointed to read the article headlined "For a few dollars more" as it was misleading.
I agree that cricketers make enormous sums of money, but so do all others in international sport, be it football, tennis, golf or racing.
We must realise that just being gifted or having talent alone is not enough when you play at this level. Constant practice and working with coaches and trainers are all part and parcel of being fit enough or good enough to be in the team. In short, it is sheer hard work.
The reason Sri Lanka Cricket is making colossal losses is due to the fact that officials running the board spent lavishly for the 2011 World Cup held in Sri Lanka amid charges of corruption.
This left the board in debt and no money to pay the cricketers. The cricketers actually played free of charge for a good eight to twelve months as a result of this blatant mismanagement.
Nobody seems to remember this period when they played without payment.
I agree that the IPL has come into enticing cricketers to play for dollars forgetting their country, but it was up to the administrators to lay down the rules and adhere to their commitments to the England tour. The board also makes a percentage from the IPL, hence the players were allowed to go along.
Who doesn't like money? People fight over it, cry over it, die over it and backstab friends over it, and if you are fortunate enough to make it because of your innate talent why not make the best of it while the sun shines?
It is not only our team that has a trade union attitude. Australian and West Indies cricketers have had their share of problems with their boards over money.
Our cricketers have given Sri Lanka the only positive area we can be proud of and hold our heads up high in the world arena. It brings a lot of pleasure and happiness watching them in action. I, for one, am happy that they are standing their ground in their dispute with SLC.
The extremely wealthy cricketers Ryp Van Winkle refers to are all involved in various charitable projects, helping out underprivileged children to play cricket even in the war-ravaged areas.
Lastly, I think RVW has completely forgotten the reign of "Captain Cool." I admired his courage, guts, and bravery when confronting cheating umpires or formidable opponents, but to say he bullied only other countries is a total understatement.
No doubt he was a great captain but he was no saint either.
M.T. Neydorff
Dehiwala
Sending emails to Lankans: A case of sorry, no reply
Technology is supposed to make us easier to reach, and it often does. But the same modes of communication that have hooked us on the instant reply also can leave us feeling forgotten.
Of late, I have been noticing how lamentable Sri Lankans are at responding to e-mails. I am experiencing a particularly frustrating time, living in Sydney, and trying to effectively communicate with people in Sri Lanka.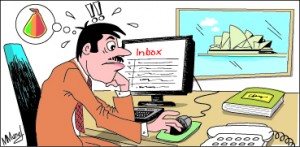 I know I am not alone in feeling this frustration. This has been a topic often discussed at Sri Lankan social gatherings for about 10 years. This brief note is to highlight the problem as a general issue; I hope my compatriots will not take umbrage at this.
Sending an e-mail to a Sri Lankan colleague or a family friend or an official message to someone in a government entity will often not get an immediate response. We send an email, a text, or an instant chat message. We wait — and nothing happens; or we make a phone call; a Skype call; Leave a voicemail message; Wait; again, nothing! I am wondering whether this has to do with a cultural attitude, combined with a certain lack of understanding of the power of the modes of rapid communication that we presently have at our disposal.
Lack of a response in time could mean many things. It could mean a snub, and sometimes it is. It could also mean that the non-responding person is too busy and does not like being bombarded with e-mails, even though it could just be one e-mail that is passed over. It could also mean that the e-mail was 'passed on' to another person considered more appropriate to respond to it, particularly, if some information was being sought. All of the above may be true.
Face-to-face, when challenged, I often hear my compatriots make the excuse: "…Oh, we are too busy…"; or, "…We wanted more time to respond, because…"; "we didn't think it was urgent…" But surely, the long delays in responding would reflect badly on people, and our society at large. It could also represent an apathetic, non-caring attitude on the part of the non-respondents; it is certainly a sense of frustration for me!
I recognise that sometimes there may be technological (computer-related; connections, power; servers) issues that may cause delays in responses. In some instances, emails may get screened out and not delivered; often the cause could be as simple as a wrong e-mail address, which has not been updated. I notice that in the sub-continent, there is a tendency for people to have several e-mail addresses. But, in most cases, there is no evidence that malfunctioning systems, or temporary glitches are the main cause for non-response from Sri Lankans.
In the developed economies, including Australia, one could get overwhelmed by a constant barrage of e-mails every day, and that too is a cause of frustration. Nevertheless, there is recognition that not responding to emails promptly, or within a reasonable time (a day or two) is bad practice, and sometimes, even unacceptable. You could easily lose friends by not responding!
Not responding to emails is interpreted as a non-caring, negative, or arrogant attitude. In work places, there is a general expectation that one would receive a response 'as soon as possible'; or, the respondent will provide a reason for a slight delay. There is a general understanding that all e-mails, directed at a particular recipient, will be acknowledged, at least with a response: "Thanks for your e-mail; I'll get back to you shortly…" If a response is not required, that too is emphasised: 'no reply is needed'. In general, e-mail etiquette is well understood, and workplace managers are particularly advised to respond appropriately and sensitively to emails.
The ability to connect with someone instantly via emails, messaging or calling on mobile phones is regarded as both wonderful, and terrible, at times. Getting no response may be becoming just part of life in a hi-tech world. A lot of people say that they've become accustomed to having to try several times with Sri Lankans, in particular.
However, this phenomenon does not appear to be limited to Sri Lanka. On a recent visit to India, I raised the issue, and was told that many professionals in the private sector and government bodies in India think the same way! Like me, they also lament that emails do not get responses in time, and this affects timely interactions and activities. So, perhaps this is an emerging, worldwide phenomenon, albeit, a poor one? Or am I just being too pedantic?
Nimal Chandrasena
Sydney
The runaway hangman: Why not introduce the electric chair?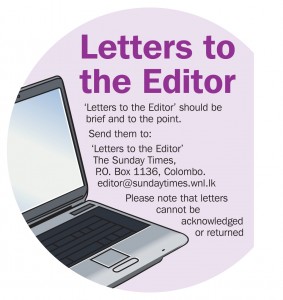 The search for a hangman has been hanging fire for so long that newspaper columns equivalent to several lengths of the specially imported hangman's rope have been expended on this. The issue has received so much publicity that even foreigners have begun to apply. The Prisons Department should relax the 'for-locals-only' rule and consider appointing a foreigner on an expat's salary with perks such as house and a vehicle. A special allowance could also be paid for doing nothing.
The possible reason why there are no takers is I believe because the sentence of death by hanging is not being carried out today. The hangman too needs job satisfaction. The more people he hangs the more job satisfaction he gets; and this is what human resources management gurus have been preaching all along.
Furthermore, with more refined and efficient ways of execution available today, causing death by hanging appears to be crude and obsolete. In fact, going by reports the last recruit meticulously trained by the state to put the noose round the neck at much cost, resigned even without starting work, shocked by the sight of the gallows!
Execution by shooting with a 156 rifle, a 9 MM hand gun, a pop gun with a cyanide pellet or even by firing squad may indeed be a plausible solution. Recruiting competent executioners by shooting will certainly not be difficult with so many trigger happy gunmen roaming the country.
Without any dispute the best and most viable alternative is the electric chair. Unlike in the case of the hangman, the training need not go beyond the competence of pressing a button. The present dilemma of the hangman holding a much hyped post with nothing to do will not arise.
However, unannounced power cuts by the CEB will prove to be a cause for anxiety!
Edward Gunawardena
Battaramulla