Dr. Leena Chandhi Dharmarathne receives PhD
View(s):

Dr. Leena Chandhi Dharmarathne, née Devendra graduated from the University of Melbourne, Australia with a Doctor of Philosophy (PhD) degree from the Faculty of Medicine. The graduation ceremony was held in December 2013 at the Wilson Hall of the University of Melbourne, Parkville main campus.

She was conferred her PhD by the Chancellor of the University of Melbourne, Prof. Elizabeth Alexander. The citation read "Dr. Leena Chandhi Dharmarathne has studied ultrasound-induced electron transfer reactions in aqueous solutions. She successfully developed a fundamental understanding of the ultrasonic generation of free radicals and subsequent electron transfer processes. This will help develop large scale sonochemical reactors for use in industrial applications".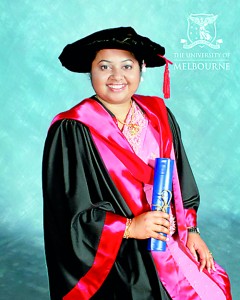 An old girl of Convent of Mary Immaculate, Matara (1985-1998), Leena obtained her Bachelor of Science degree from the University of Kelaniya in 2004 and worked as the Assistant Registrar at the American/Australian National College, Colombo (2004-2006) until she migrated to Australia in 2006 to join her husband.
Entering the School of Chemistry, University of Melbourne, Australia in 2008 she worked on an honours research project, titled, "Sonochemical Synthesis and Characterisation of Silver Nanoparticles". Her PhD research project was titled, "Ultrasound Initiated Radical Formation and Electron Transfer Reactions in Aqueous Solutions". The recipient of the prestigious Science Faculty Scholarship of the University of Melbourne in 2009, Leena was also awarded the Prof. Tom Healy Travel Award in Colloid and Surface Science in 2011 to make a presentation at the Annual General Meeting of the Japan Sonochemical Society at Nagoya University, Japan. She has successfully published her research findings in the international Journal of Physical Chemistry. One of her articles was published in the 2013 Edition of the Resonance Magazine of the University of Colombo.
Multi-talented, Leena, an avid chess player, was the women's chess champion of the University of Kelaniya in 2001. She also paints in oils and her paintings have been exhibited at the Commonwealth Institute of London in1992. A talented soprano, she has performed with the Royal Melbourne Philharmonic Orchestra in 2008.
Married to Kosala Dharmarathne (Melbourne, Australia), she is the daughter of Madurarama Devendra (Proprietor, Chandrakumara Enterprises, Matara) and late Mrs. Mallika Devendra and daughter-in-law of Widana Gamage Dharmarathne (Managing Director, W.G. Dharmarathne Jewellers (Pvt) Limited, Matara) and Mrs. Srimathi Dharmarathne.