Appreciations
View(s):

A father figure held in high esteem

Victor Santiapillai 

Victor Santiapillai is no more. But his legacy will go on for many more generations. We remember him as the founder Chairman of the Export Development Board (EDB), which was established by act of parliament in 1979. Each and every employee of the EDB irrespective of the rank has something to say about Mr. Santiapillai. It is either his impartiality, efficiency or a personal anecdote revealing his great human qualities.

Mr. Santiapillai was appointed Chairman by the then Minister of Trade and Shipping, Lalith Athulathmudali, under whose purview the EDB came. Mr. T.K Premadasa who was a senior official of the EDB has appropriately brought to our notice what Mr. Athulathmudali stated in Parliament which is recorded in the Hansard of May 28, 1978. This was in reply to a query made by Mr. Amirthalingam.
"I feel industries in the North with its special Scottish character can make a valuable contribution to development. I have seen some of the industries set up in the North. If they are made export oriented, which at the moment they lack, we will be very pleased to give you all the support. In fact if I may say so a Jaffna Tamil is going to be appointed to head this organisation. He is Victor Santiapillai, Secretary General of UNCTAD-GATT-ITC International Trade Centre who has wide experience in this kind of things. I thought he was the best man, and he could try out all the ideas he has gained from the world for the benefit of his motherland." (Edited) Which he actually did!

Schemes and projects he initiated through the EDB not only helped many of the top names in the export field today but also made exports more and better known among the people at a time a closed economy was heading towards export orientation. He was very proud of the team he groomed at the EDB. In making selections through the first two interviews (the third interview was by the Minister himself) he was able to spot potential talent. Most of the young graduates he recruited, from the far away rural areas are now well known, respected figures in the international arena. As a natural consequence of development they left EDB for greener pastures.
Though he was a small-made man he was visible anywhere with his strong personality. Once when he visited EDB, he related an interesting story which was a lesson to all the young ones. Once Sir Oliver Goonetilleke who met him while he was working in London had tapped him on his shoulder and had said "Young man if you do not put a value on yourself, no one else will". Probably this was a lesson that groomed his strong personality.

After completing a degree in Economics at the University of Ceylon Mr.Santiapillai joined the civil service. He held a number of positions connected with bilateral trade relationships and worked with many international trade organisations for 16 years. His work gave him experience in activities related to commercial policy, trade and commodity agreements, market research, trade promotion and trade representation. He was Trade Commissioner for Ceylon for four years in the United Kingdom in the early 1960s. He was the Head of the International Commercial Relations Division of the Ministry of Commerce in Colombo, after which he joined ITC.
Mr. Athulathmudali could not have found a better suited person for the position of the Chairman EDB. But what we cannot fathom is our luck in having a good human being within this widely experienced person. At the time of his demise one employee would recall how he attested his marriage, another how he came personally to meet at the death of a dear one. He kept on telling his less educated employees "teach your children English- that is the only way". Children of most of those who served close to him took this advice and are doing very well today. He had gone to the extent of buying a plot of land for one of his employees.

With his wide experience in international trade he did his best as the head of the organisation in charge of policy, while Mr. Kulatunga being a seasoned administrator from the SLAS was the Director-General, heading the administrative side. They made a great pair and the EDB soon became a most respected and viable organisation fulfilling the aspirations of the founder, Minister Athulathmudali. With all his experience and expertise he remained a very unassuming person. He was held in such high esteem and affection by the EDB staff and was almost a father figure to them.

We were able to see more and more of his personal human side long after he left the EDB. During the last few years, it became a regular practice for a few of us to meet him in Colombo on his regular visits to Colombo in January. It was almost always a birthday treat for him on his birthday which was on January 28. At times he insisted on being the host. His favourite place was "Raja Bojun"" where he was able to enjoy some typical local food. I remember how he relished a piece of "Waraka" – ripe jak fruit once. Although he had a close circle of friends in Geneva where the ITC old employees met once every quarter, Sri Lanka was always a part of his heart and life. He wanted the omelette made the Sir Lankan way with green chillies which was done in Geneva by a Sri Lankan maid.

He was a very independent person and enjoyed when his friends and relations visited Geneva. When we went to Geneva on a holiday a few years ago his sister Rose and brother-in-law too were there as well. He had called my friend with whom I stayed and asked about their plans for me to make sure I saw the best of Geneva. He drove us to a hill top restaurant without the slightest effort though in his late eighties and we were really proud of him.

When I picked him up for our regular lunch in January 2012 to celebrate his important 90th birthday however, I noted he had some difficulty in getting in and out of the car, although he refused assistance. But we never thought that was the last time we would see him. He was a very good email correspondent and kept in touch regularly. When he heard about the formation of the EXEDB Association he wanted to see all the photographs. We sent him the links and he wrote back saying he could remember most of the faces with the names too! In November 2012 came the cheerful note that he was looking forward to meeting us in January 2013. But it was not to be. For a while he had some hope of coming a little later but had to give up the idea.

He had fallen sick in December while he was visiting his daughter in London for Christmas. Then came sad notes "unfortunately I do not have good news to share", Ï have lost count of the number of times I have been in and out of the hospital" and the final mail I got said "It is no longer effortless even to write an email, I have to resort to common mails and please share".

On the whole the year 2013 was not a very good one for him. But he lived a life making a great difference in the area he worked as well as among the people he associated with. He was a devoted Christian and I remember how he marvelled saying it is "the beautiful creations of God" when we admired the beautiful trees and surroundings in Geneva. He has left his son and two daughters with the proud memory of having a great father. Born in 1922 in Batticaloa he lived to a great age quite independently, except the last few months. He is now at peace with God.

Chandrakanthi Dharmadasa- Vice President-EXEDB Association-
(The views are a collection of thoughts of EXEDB members.)

NIRANJAN  CHRISANTHA DE MEL 

His was a life exuding love and kindness

"In the midst of life we are in death"

The sudden passing of Niranjan on December 13, 2013, a few days after he notched 59 years was indeed a shock to his loved ones, friends and relations. His was a life exuding love and kindness instilled in him by his parents Nelson and Nesta, whose home was built on Christian values.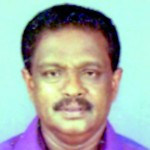 After his entire education at Prince of Wales' College Moratuwa he joined the staff of Colombo Dock Yard where he worked for 34 years. Happily married to Preethi for 31 years, he was a very loving husband and devoted father to his son Neelaka and his daughter-in-law Nilukshi and to his daughter Cheethika. Christian family life was seen in their home and It could be said of him in the words of Joshua "For as for me and my house we will serve the Lord".
Next to his home and workplace his active participation was in the work connected with the Church of Holy Emmanuel Moratuwa. He started as a Sunday school pupil and was a chorister, President of the Youth Fellowship, and an active member of the Senior Guild. He was to participate in an item to be rendered by the Senior Guild at the Church Carol Service, not knowing that he will be singing Allelujahs to the Heavenly King with that multitude on another shore which no man can number. His concern for church work was extended to the service of Christ Church Horetuduwa to which he contributed his services to have the dilapidated belfry saved from near collapse.
In addition to his beloved family, he will be missed by his relations and friends as he with his genial smile was always willing to give a helping hand, shunning publicity and limelight.
"On that happy Easter morning,
All the graves their dead restore,
Father, sister, child and mother
Meet once more"
Merril de Silva
Fr Srilal Ameratunga
The priest of the poor
Fr. Srilal was the eldest son of late Mr. and Mrs. Henry Ameratunga of Rilaulla, Kandana. He had his early education at St. Joseph's College Colombo. In 1963 he went to the Redemptorist seminary in Bangalore to become a priest. He came back to Sri Lanka in 1970 and had his early training at the Kelaniya parish under the guidance of Fr. Ernest Poruthota.He was ordained a priest in 1972 by Bishop Oswald Gomis at St. Sebastian's church, Kandana.
I first came to know Fr. Srilal when he was a deacon at St. Mary's church, Peliyagoda. He was assisting Fr. Poruthota, and also was translating the encyclicals to Sinhala together with Bro. Jayalath Balagalla (now Fr. Balagalla).
Fr. Srilal's simplicity, poverty, and the missionary approach made him a popular figure among the Catholics. His vestments were a plain white cassock. Once when I visited him when he was at the Kalpitiya church and saw him wearing a plain white cassock, I asked him, Father, why don't you buy some new cassocks? His answer was that he was following the footsteps of the founder of the Redemptorist congregation, St. Alponsus Liguri who led a simple lifestyle.
At the far end of the mission house there was a bed without a mattress. The base was woven with coir and it was the bed used by Fr Srilal. This reminds me of the simple lifestyle of Pope Francis who declined to live in a lavish papal apartment, insists on carrying his own bags and uses a 1984 Renault car.
"It is not enough to offer a fish to the poor. It is better to teach him how to fish and make him to stand on his own feet" – Fr. Srilal believed this to the letter and helped unemployed youth find employment.
Once when I visited him at Kongodamulla church where he was the parish priest, I noticed some brand new clothes on his table. I casually remarked, "Father, it appears that you have got some presents for Christmas". He smiled and said, "Yes, they were given to me by my mother. But I am not going to use them. There are lots of poor people in the parish who have no proper clothing. What I have is enough for me. I am going to give it to them so that they can enjoy Christmas. But please don't tell my mother."
He always believed that the poor are the flesh of Christ.
Fr. Srilal's priority in the parish was to find the lost sheep in the parish. His priority was not only to visit the parishioners, but to visit those who had moved away from the church due to misunderstandings with the priest, marriage break ups, disagreements with the hierarchy, unrest etc. He followed the footsteps of Jesus who in his public life, moved with sinners, tax collectors, the poor and the down trodden.
Fr Srilal worked in the Chilaw Diocese and was attached to the parishes of Talawila, Kalpitiya, Irabadagama and the Chilaw Catechetical Centre. Subsequently he worked in the Thimbirigasyaya and at Kongodamulla parishes.
His ideas were very much similar to those of Pope Francis. His goal was to reach out to people and look for the lost sheep. With this idea in mind he visited and met the drug addicts, the alcoholics, the restless youth, the lost Catholics etc.
Fr Srilal always believed that the church should not be divorced from the needs of the people. He always showed a sympathetic attitude. If a young couple came to him and requested him to marry them in church, in the face of parental objections, he took all the trouble in getting the parents' consent and granting them the sacrament of holy matrimony in the church. He knew that if no effort was made, the couple would drift away from the church.
Fr. Srilal was at Santa Maria, Kandy for about three years. During that time he was a visiting lecturer at the National Seminary, Ampitiya.
Fr Srilal passed away in 1990 at Kongodamulla. His mortal remains were buried at the Redemptorist House, Santa Maria, Kandy, with Archbishop Nicholas Marcus Fernando, Archbishop Oswald Gomis and Bishop Vianney Fernando officiating at the service.
Eric Perera
ASP Christo Mendis 
Reigniting memories that we shared
It has been a decade and a half since Christo passed away. Time does fade memory, yet off and on we need wake up calls to go back to the past and re-live moments and events that we shared with loved ones who have departed. It is now a time to think of Christo and write a few words of remembrance to re-ignite memories that are lying dormant within us.
ASP Mendis was a simple man, career police officer and a devoted husband to my sister Mirelle and a loving father to his son Sanjay. I have associated with him closely to know what a wonderful person he was, not only to his family, but to all who came within the periphery of his life.
Christo Aiya – that's how he was fondly known in Moratuwa. 'ASP mahaththaya' was his police reference to ones who worked as his subordinates. He in his own absolutely honest way upheld the law to the best of his ability and helped those who came seeking assistance in police matters. I never heard him raise his voice even once. He wasn't the 'demi-god' straight from Mount Olympus riding rough shod wrapped in a uniform of authority. No he was never that. Christo was just a soft spoken honourable man who served in the Police with total and transparent integrity. That says a lot about him and his work as a Police officer in an era where the law was often bent or broken by different power giants.
I still remember someone at his funeral making a comment looking at his simple house and the simplicity that surrounded it. "He must have been an honest Policeman".
That he was to a fault, as honest as the day. He lived up until his last breath upholding the law that he revered and respected.
Fifteen years have passed, and we remember him with love. You who are reading may have known him and would be reminded of a word or association you had with Christo. I am sure it would be a pleasant memory, as that was the only kind he was capable of leaving behind. To those who did not know him, maybe you will be happy to know there were people like ASP Christo Mendis serving in khaki. Getting battered from time to time from the various winds that blew from the 'powers that be' they still made their best efforts to uphold the law as best as they could.
"To live in the hearts of those you leave behind is but surely not to die".
Such words do make a loved one live forever, and Christo has left behind enough hearts to remember him, recall memories and appreciate him for the man he was. Of that I am sure.
Capt. Elmo Jayawardena
CHANDI KANNANGARA
A great man with a golden heart
The 20th death anniversary of Chandi Kannangara, founder and managing director of Trico/Frico International and pillar of the Sri Lankan expatriate community in the UAE during the 1980s, fell on April 2, 2014. Chandi, the great human being left this world at the young age of 42 years after achieving much and leaving his loving wife Ranjala, son Sampath, daughter Sangeetha and all those who knew him with fond memories.
Chandi was a sincere friend to all Sri Lankans in the Middle East. Everything he did in business or otherwise was aimed at serving the Sri Lankan expatriates, especially those in the UAE where he was based.
My contact with Chandi began in 1983 when I was employed in Dubai and developed into a strong friendship over the years. He was the only Sri Lankan in the UAE on whom I could unreservedly count on to support various community, social and sports activities we organised through the "Lanka Lions" of which I am a past president.
In addition to developing effectively the core business of Trico/Frico International, a clearing and freight forwarding company, Chandi embarked on setting up a number of service-related ventures such as a Sri Lankan grocery, restaurants, entertainment and a Sinhala radio broadcast to the Middle Eastern countries by renowned Sri Lankan announcers through the UAQ Radio. He wanted to make the Middle East a "Home away from home" for the Sri Lankans there.
Another important activity initiated by Chandi was a counselling service at the Frico office in Dubai, to advise Sri Lankan workers particularly women who faced hardships and ill treatment from employers. He began this service at a time when there were no Sri Lankan consulates in Dubai and the Northern Emirates. Dedicated personnel having knowledge in this field were engaged to provide this service. He was virtually an "unofficial Sri Lankan Consul" in Dubai.
In April 1987, three months before I left Dubal after a 10 year stint with American corporate giant Kodak ( Near East) Inc, at his invitation I had the privilege of serving as the Chairman of the Organising Committee of a major musical show held at the Al Nazar Leisureland Dubai to coincide with the Avurudu celebrations. This show is considered even now to be one of the best ever held with the participation of musical giants such as Clarence Wijewardena, H.R.Jothipala, Latha, M.S. Fernando, Priyantha Fernando, Champa Kalhari, Mariazelle, Annesley, Samuel and Berty etc, all musicians backed by the popular Gypsies headed by Sunil Perera and together with keyboardist Sarath Alwis.
Following this show, at Chandi's request I was also able to arrange Sunil Perera with the Gypsies to perform at the Intercontinental Hotel Muscat, Oman during all days of a Sri Lankan week held there, which was sponsored by Frico.
Chandi was indeed a great man with a golden heart.
Lakith Peiris
Capt Wasantha Jayawardane
Brave warrior and beloved friend 
The best days of my life in the Sri Lanka Air Force are filled with the memories of late Group Capt. Wasantha Jayawardane, where not a day was spent without involvement with him. Whether it was battle related, or literature, international relations, international politics (we never had issues on local politics), or the Taliban issue; we had plenty to share, debate, discuss and often he had more to offer than me.
I did so enjoy the company of this legendary warrior; my first ever Helicopter Instructor who taught the ABCs of rotary wing flying; my mentor in my career as a helicopter pilot; my colleague as a helicopter instructor; my advisor on international relations, politics,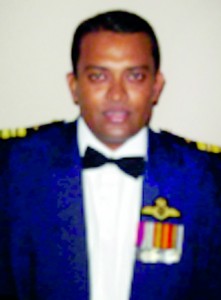 literature and poetry; my enemy on Islamic ideology where the debates went on for days by trying to find out whether Salahuddin (Saladin) did the right thing by conquering Jerusalam (in fact he never lent me the movie on this as it might give me additional information on these debates); my dearly beloved friend with whom I have shared everything and, above all the person I knew with the greatest heart.
I know very little about his history in the SLAF, except for his intake and the well-known mischief that he and his batch mates did. The rest still remained unshared and it will never be, and even if someone else is to share, it will never be as interesting as it would be with him.
My memory dates back to 17 years ago when I first walked in to the SLAF Base Hingurakgoda to start my new life as a helicopter pilot. This commanding figure looked very tough but was so caring for his students, where he believed that we needed to be better trained to shoulder the demanding task ahead of us. He was the coolest inside the cockpit. He was far better than the showman warriors we saw at that time. His method of delivery was very simple and he was a simple human being too. He was the most sarcastic person towards showmen who wouldn't realise it for a long time, yet with the most pleasant grin I have ever seen.
The cool and composed attitude was something that characterised him. He would be the slowest to react to situations as if he had seen it coming for a long time. I have not seen him running and never saw him panicking either. Even during the worst situation, his explanation would be "Deeno I am in Trouble" with a smile, giving instructions on the actions to be taken or requesting my opinion when I was in a different Squadron. He was a proud man and never asked for and expected any favours from anyone.
"Jawa" as he was fondly remembered by his close friends (I was never allowed to call him by that, although allowed to use it to refer to him) wanted comfort and looked for quality in all aspects. He used a comfortable Green Peugeot for a long time until it reached the end of its life span. Sometimes we would offer him the left over grass green wall paint to be applied for his car which would lead to a detailed description of its comforts, justifying his decision to keep it.
He loved his family dearly and would become very emotional in issues related to his son Darren, daughter Nadia and wife Janice and the transition of a warrior to a humble human being was unbelievable. His whole world revolved around them.
His acts of valour during the long years of service had been recognised with the Rana Sura Padakkama and various campaign medals. His survival CV that gives a glimpse of his experience is available in his facebook profile. I am sure nobody can beat it. At the time he bid farewell to his flying career he was at the apex being the Command Instrument Rating Examiner, A2 Rated Qualified Helicopter Instructor certified by the Central Flying School of UK, qualified on NVG and had held all the ratings as VVIP/VIP, Pax in all the Transport Helicopters in SLAF. He was trained in Military Management in various foreign deputations and did his Senior Staff Course in China.
When throat cancer struck like a thunderbolt, he was upset, yet determined and fought against it for more than one and half years even when the time was numbered in days, questioning the prediction of medical experts too. His last status update was so thrilling about his last surgery and we all congratulated him.
"Jawa" departed on February 2, 2014 leaving his wife Janice, daughter Nadia and son Darren. He will be remembered as a great legend as a helicopter pilot in the SLAF.
May you be granted the best life hereinafter!
Squadron Leader (retd) T.N.Deen