For some it's discards but for him it's art
View(s):

About an hour away from Colombo en route to Gampaha, motorists are bound to do a double take at the life-sized bronze elephant standing on the side of the road. A closer look and you see it's made entirely of cogwheels from children's bicycles- a trademark sign that you have entered Prageeth Manohansa's territory.

For those unfamiliar with this local artist who has been creating waves since the early 2000s, a quick peep at the famous "bicycle tree" in the lobby of Colombo Courtyard, the metal horse atop the Saskia Fernando Gallery down Horton Place and the 20 foot tall structure of a peacock at the Mattala airport may jog their memory.

Much like his soft spoken, humble demeanor Prageeth's workplace seems to be a true replication of his personality. His garden is his "workshop"; an open space, typically someone's front yard. A chandelier of green and yellow screwdrivers swings gently to and fro while stag busts, life-like down to their dewy Bambi eyes and soft fur stare back at visitors from the wall. A bullock sculptured entirely out of paper, horses' heads and half done animals lie scattered around with neat piles of scrap metal lending a typically chaotic yet artistic flavour to the place.

Renowned for turning scrap metal into works of art both at home and abroad Prageeth's magic fingers have taken old car parts and other metallic knick knacks fashioning them into lifelike sculptures and masks.

Vintage bicycles surprisingly greet you as you first walk into his home, the walls adorned with portraits, sketches done by both his brother (also an artist) and himself, also childish squiggles and paintings courtesy of his two little children and nephew. It's easy to imagine then, that art is something very personal to Prageeth, who claims his greatest influence to be his family, especially his father. A student of Carey College and the second of three boys, all who are established artists, Prageeth credits his father for nurturing his love for art. "My father was my art teacher in school," he said, reminiscing over the times he took up occasional jobs as a landscaper and also made the costumes for their school shows, Prageeth and his brothers lending a creative hand.

But it was his father's interest in assembling old cars that really caught the interest of the youngster. "I used to watch him work and help out as well; this was when I became interested in scrap metal."

His interest in both art and metal kept growing and the teenager would find his trouser pockets constantly black with grease and soot collecting whatever scraps that caught his eye so he could go home and assemble them into something interesting. "When I was in Grade 9 my father showed me Picasso's bull's head made from a bicycle seat," he says, recalling how it fuelled his newfound hobby. By the time he was 16 Prageeth knew exactly which path was meant for him.
Pursuing art as a subject while at the University of Visual and Performing Arts Prageeth found himself trying his hand at landscaping as well. "I always loved working on figures and structures," he says explaining why the movement of muscle, texture and structure of animals and people has always been the core of his work.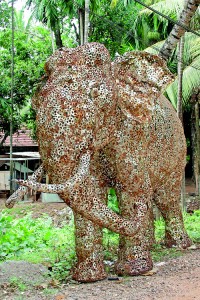 It was while in university in early 2002 that he held his maiden exhibition, with the support of his teachers, friends and his family. "But at that time not a lot of people were into this type of art," he explains.
Doing further studies in Benares, India, Prageeth continued working with scrap metal. Having done workshops and exhibitions in the Maldives, United Kingdom and Singapore, Prageeth's artistic horizon was definitely widened. "But I prefer not to follow any particular artist or style," he says adding that he likes to go his own way. Fortune has smiled with a growing fan base over the past 12 years.
His more recent projects have been featured at the Paradise Road and Saskia Fernando Galleries, Mattala Airport and Colombo Courtyard and he also held a successful exhibition in Singapore.
But fame and success have not changed this humble artist. He still visits the same shops and garages he used to go to in search of scrap metal and car parts.
T the reason for picking scrap metal as his material of choice is not only unusual, but sensitive and insightful. "I use these scraps to draw attention to the working class and labourers," he explains. "I can't explain what their fatigue, their lifestyles, the essence of their work and their mind frames are. But I want people to be able to see into their lives and their world."
Always wanting to bring something new to the table while keeping to his style of art, his new exhibition "Chromatic" steps away from his usual elaborately sized bronze and iron masks and sculptures. The collection is made up of pieces made colourful by green red and yellow screw drivers while portraits of horses, collages made up of newspaper articles carry a slightly deeper meaning. "I used the horse to signify power, and used newspaper articles to fill them in to show the power and influence of the media."
As to his future plans the tireless artist is already absorbed in his new pieces. In his garden stands a 10 ft structure of a flame. Thinking mathematically is important when it comes to scrap metal art, trying to create a balance between weight height, etc.
"I'm hoping to have an outdoor exhibition in the future," he adds, mentioning a dream of his to have a zoo-like exhibition with a collection of metal animal figurines.
With more than a decade in this fast growing field, Prageeth is grateful by the fact that more and more young artists are turning to scrap metal art. "Art for me is like a big tree with so many branches. It's a very powerful language and we can only move forward with it, " he says.
"CHROMATIC" an exhibition of new work by Prageeth Manohansa is on till April 15 at the Saskia Fernando Gallery, 41, Horton Place, Colombo 7.Tel- 7429010