Tommiya visits cyberland
By Duvindi Illankoon
View(s):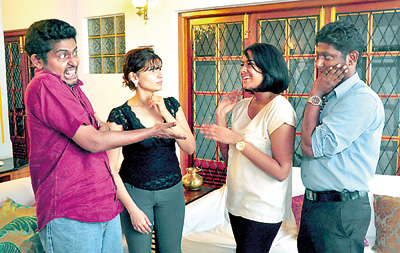 Indu Dharmasena returns to the stage with his 60th play next week, and what better way to celebrate the landmark than to bring back the beloved Tommiya, that fumbling bastion of the local stage? This time Tommy's adventures take him to cyberland and Facebook, where the technologically challenged Tommy finds out about the nitty gritties of navigating through social media through a series of hilarious mishaps and some engineered by a jealous co-worker on the war path.
Tommy was created in 1989, exactly 25 years ago, on Indu's reliable typewriter. That first play 'Madei Tommiya Dubai Giya' was received with great enthusiasm as the linguistically challenged Tommy was first introduced to local audiences.
A serial writer, Indu believes in versatility and consistency. Even when we speak, in the midst of the hullabaloo for this production, Indu is in the process of writing yet another play. This time around Indu celebrates his special 60th play by bringing back some of the original cast for their original roles.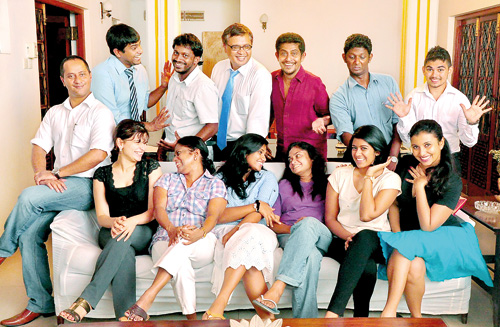 Tommy was inducted to local stage as your quintessential village bumpkin who comes to Colombo to learn English. Since then, he has kept his fans in stitches with his very colourful interpretations of the Queen's language. The play is inadvertently social commentary; Tommy discovers to his dismay that Colomb-ites are well mannered and well heeled-in public, that is. As soon as backs are turned the tongues begin wagging. "Tommy can't really fathom this," says Indu. "He'll say, 'why don't you just say it to their face?'" It's this honest streak that Rehan Madadeniya, a sneaky social climber working as a hairdresser in Andana's salon latches onto in his quest to make Tommy's social media presence a misery for everyone involved.
Will Tommy's good friend and business partner Andana be able to help him? That's a task for Michael Holsinger, who returns as the extravagant entrepreneur after a hiatus of over half a decade. Abbasali Rozais has taken on the role since then but Michael is happy to return this time for this very special anniversary. "Indu badgered us till we said yes," he grins of coming on board with wife Priyanka. "And it's great to be back with the old crowd and the new ones as well." When Michael last played Andana he was of a much slighter frame but says regular audiences will see even slighter changes in character. "He's been toned down a little for sure," he shares. "But Andana is as fabulously camp as ever, you'll find."
Michael's wife Priyanka 'Prinko' Holsinger plays Angie, the daughter of Dubai-returnee Lucy. "Angie is the posh one," she tells us. "Lucy kept trying to fix her up with Tommy in the earlier plays which she isn't happy about at all." Lucy, for her part, is keen on fixing things up for everyone including herself. It's a role that Chithranga Kariyawasam has loved playing best. "Lucy is hands down my greatest pleasure on stage," says the doctor by profession. "When I'm on stage as Lucy I can just let myself go, it's fantastic."
Newcomer Keshan Leitch makes his official debut with this play. Keshan plays the role of Tony the product supplier but like everyone else, finds his character taking a pivotal part in the plot. Indu's wife Sanwada has been in practically all his productions and in this one she plays highbrow novelist Ducky, sister to Lucky. "Lucy considers herself one of the 'literati'," she explains. "She's immediately suspicious of Rehan's intentions towards poor Tommy." Tommy will find matters further complicated with the arrival of actor Niroshan Sanasana who wants to be cast in an art-house film for which auditions are being held at Andana's salon.
Shohan Chandiram is another returnee to the franchise but plays a different role as Niroshan this time around.
"Think rippling muscles, cheesy lines and see-through shirts," quips the actor. Also taking on roles are Nihili Senarath (Lucky), Anushan Selvarajah (Rehan), Keshiya Leitch (Tania), Yasal Ruhunge (Mahesh), Senalli Ranathunga (Mihiri) and Anoop Kapukotuwa as Shakiya. So how will Tommy fare in the dangerous world of social media? Find out at an evening of hilarity as Tommy foils Rehan's evil plans and manages actor Niroshan's highbrow sensibilities. Evoking memories and drawing unbridled laughter is Indu's forte after all.
'Madei Tommiya Facebook Giya' will go on the boards of the Lionel Wendt from March 7 – 9 at 7.30pm. The show is presented by The British Council Locally Engaged Staff Association, OBA of St. Thomas' College, Bandarawela and Kingswood Union Colombo Branch respectively to raise funds for development activities.