'Gee Ranga Siri' Theatre songs back on the stage
View(s):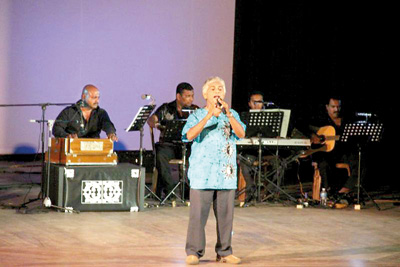 'Gee Ranga Siri', a musical show of past and contemporary drama songs will be held at 6.45PM on March 8 at Bishops College auditorium, Colombo.  From John De Silva's "Siri Sanga bo " staged in 1903 to Jayalath Manorathna's drama "Guru Tharuwa" the duration spans over a hundred years. "Gee ranga siri" presents the popular drama songs in the period providing a rare opportunity for people to listen to them and learn the evolution of the stage drama during the period.
The songs from historic dramas such as 'Ada wessanthrara', 'Shantha Johnge', 'Maha giri damba', 'Ha ha lande', 'Dekkoth pathmawathi' , 'Siri sanga bodi' , 'Gin gan guly' and many more will be sung by veterans in the field like Nishshanka Diddeniya , Rodney warnakula , Rathna Lalani , Nilmini kottegoda and Giri raj Kaushalya and music will be done by Mahanama Wickramasinghe. Priyankara De Silva is the organizer and the coordinator.
The event is organized by the students of Brihaspathi Sarasaviya. Tickets are available at Sarasavi book shop – Nugegoda / Maharagama , Sadeepa book shop – Borella and online reservation through ticketslk.