The aroma in the city
By Sanath Weerasuriya
View(s):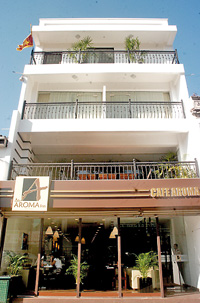 The very first British style Coffee House and Inn in Kandy– 'Café Aroma Inn' was opened in December 2013.  Centrally located at busy Colombo Street, 'Café Aroma Inn' started its operation in view of fulfilling more than what a demanding 'food fanatic' will ask for. Café Aroma Inn is already a popular place with hundreds of foreign travellers and Sri Lankan food lovers visiting Kandy daily.
Café Aroma Inn is a brainchild of Chairman Dr. Kusumsiri de Silva, who considers Kandy is lacking a decent fine dining facility in the city centre for visitors to the hill capital. 'Not like Colombo, Kandy is dragging behind when it comes to cuisine. There is no decent place for families or travellers to hangout in the city, apart from the star class hotels. Coffee House concept is totally new to Kandy. This motivated me to start something new that can provide coffee house concept with multi cultural menu and family type fine dining restaurant' explained Kusumsiri, a Medical Doctor by profession.
The 'Coffee House Café' at the ground floor can accommodate up to 40 pax, while fine dining Family Restaurant on the first level is a posh place for nearly 50 pax. The six rooms available for accommodation at Café Aroma Inn on the second and third floors consist of four standard rooms and six deluxe rooms. All rooms comprises of all modern amenities inclusive of cable TV, mini bar, tea coffee making facility and wifi.
'WiFi connectivity sought by today's traveller and Aroma Inn is a free wifi zone for all its patrons. This is a handout joint and travellers are free to use this facility at anytime' said Chandana Sumith, the son of Dr de Silva, man behind the entire operation of the property. Keeping – in with the traditional Italian bar, there is a range of café latte, cappuccino, espresso etc; The usually a soft drinks, smoothies Milkshakes, flavoured milks, Juices, Varitiy of ice creams savoury snacks, Tapas, Tempura, Yogurt, bread and bakery items, croissants and croutons are some of the popular items on the menu.
Main meals such as pastas, fish & chips, noodles, fried rice, puddings, desserts, vegetarian varieties, rice preparations in Malaysian, Mongolian, Thai, Indonesian, Indian or Sri Lankan styles are too available at the open action kitchen.  'We serve rice & curry, biriyanis, lamprise, noodles hot & spicy, a quick meal to fill diminish your hunger in minutes or to quench your thirst, to keep your palate rolling with mixed flavours that includes burgers and submarines. We have an open action kitchen and we serve all plated meals' explained chef Ananda Ranasinghe.
The rates for the rooms range from Rs 8000/- (room only) to Rs 12,000/- (f/b/d). For more details contact 0812229950/1 or log onto www.cafearomainn.com'