'Galle Music Festival 2014': Third season
View(s):

'Galle Music Festival 2014', the sister event of the Jaffna Music Festival, will come alive for the third time on 15 March at the Moon Bastion in the historic Galle Fort. GMF is an international music, cultural and performing art festival ranging from classical to folk, contemporary and fusion to modern day music for an entrance free open air event.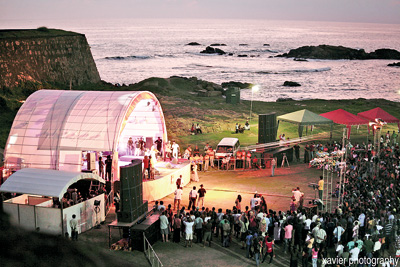 Apart from the usual mid stage festival, this year's highlight will be the introduction of Children's Festivity segment. This year the Festival is incorporating a separate component for school children in the Southern region, where children studying various performing arts and interested children can actively experience and participate at specially organized workshops.
Under the concept, 'Music is for all' – Children's Music Festival hope to engage children to understand that music is a language that could be experienced and enjoyed by all. This festival is a platform where children from diverse backgrounds can come together and experience the world of music through interactions and experimentations. Children as our future Ambassadors and leaders can use this opportunity to share their experiences and feelings to build up their knowledge in diverse musical expressions available locally and internationally.
Children will get an opportunity not only to experience popular and common art forms such as music and dance but also a basic introduction in to important and creative elements such as Music Composing, Lyric writing, Video production, Vocal training, Dubbing, Environment programmes, Nutrition programmes, Art workshops and many more activities.
The Children's Festival will be held on Friday, prior to the main festival, on 14th of March. The main festival will provide a platform to present a blend of unique sounds that will give prominence to groups representing all ethnic communities across all regions of the island, while also featuring international artistes from various countries. Performances will start from 4.00 pm and go on till 11.30 pm at the Moon Bastion, in Galle Fort.
The main Sri Lankan artistes who are billed to participate are Kolitha Bhanu and the troupe, Nondi Nandagam of Batticaloa, Thriloka, Oriental Music Orchestra, Sokari-Dambulla, Tony Hassan & Orchestra (Malay), Tamil Musical Group from Jaffna, Naadro, Natanda, Marians and Ranwala Brigade.The potential international groups which will take part at the main event will be Ten Sing from Norway, Shironamhin from Bangladesh, Grupo Roda Viva from Brazil, Don Bhat and Passenger Revelator from India, Sabreen Association for Artistic development from Palestine,
Each year after the Music Festival whether it be in Galle or Jaffna, the International groups have an indoor concert in Colombo. This year however the Colombo concert is going to be an open air event featuring not only the international groups but also some of the local groups as well. The Colombo concert will take place on the 17th of March at the Galle Face Green, between 5:30 pm and 10:30 pm. Galle Music Festival 2014 is a presentation of Sevalanka Foundation, together with Royal Norwegian Embassy Rikskonsertene, and aru Sri Art Theatre.