'Sam's Story' showing now
View(s):

Much awaited internationally acclaimed film 'Samige Kathawa'- 'Sam's Story', a film based on the Gratien prize winning novel of Capt. Elmo Jayawardena is now being screened at Regal Colombo and other CEL circuit cinemas.  'Samige Kathawa' became popular after talented Jagath Chamila won the Best Actor award at the New York City International Film Festival for his significant role as 'Sami', the protagonist. The film is directed Priyankara Vittanachchi.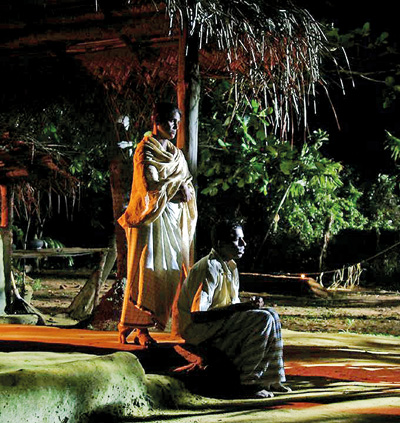 The film follows the story of a poor and uneducated boy from a Sri Lankan village. Hailing from a family with financial constraints, Siriratne is the eldest son and is mentally retarded. Growing up with lack of parental affection, Siriratne and his brother, Jaya give up their education. Siriratne becomes a domestic aide and is called 'Sam' while his brother enlists in the army. Following the news that his brother had died in action, Sam begins to dislikeTamils.
To worsen the situation, Sam had to work with two other domestic aides, Gowri and Selva who are Tamils. Conflicts over their ethnicity begin among the domestic aides. Yet the landlord treats them equally. The film takes a dramatic turn when the master of the house dies in a bomb explosion in the city. What would be the reaction of the three domestic aides? This creates many a confusion and conflict in the family.
The star-studded cast brings the fine performances of Jagath Chamila, Sanath Gunathilaka, Menik Kurukulasuriya, Nilmini Buwaneka, Victor Ramanayake, Kusum Perera, Thesara Jayawardane, Anushka Vinodini, Vathika Ravinath, Malinda Viraj, Bennie Clariston, Wasantha Perera, Welegedara Ranasinghe, Vinnie Wettasinghe, Mangala Fernando and Nisansala Edirisinghe.
Cinematographer Ruwan Costa, art director, Welegedara Ranasinghe, costumes by Athula Sulthanagoda, edited by Shyaman Premasundara while the music director is Sarath Wickrama. Screenplay written by Pushpakumara Ellawela and Vithanachchi himself 'Samy's Story is produced and directed by Priyankara Vithanachchi. Executive producers of the film are Dayashantha Fonseka and Priyankara Vithanachchi.