Rukshan raises voice for unity and peace
View(s):

Scrambled eggs are undoubtedly an odd topic to write a song about but that never stopped Rukshan Perera who staged Rukshan Perera Live In Concert IV last month. The entire concert featured his original compositions that included tribute songs, thought-provoking reflective numbers and even some "fun" tunes as he called some of his more humorous creations.

Rukshan raised his voice for unity and peace, sharing the stage with many of his contemporaries for the benefit of the Unity Mission Trust. The Trust, a voluntary organisation promoting reconciliation and unity among youth from all over the country got Rukshan's attention when he returned to Sri Lanka after several years abroad.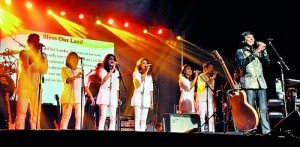 The successful evening celebrated many iconic figures like the late Nelson Mandela in whose honour Rukshan wrote "The Meaning of Justice". The song was performed by the De Lanerolle Brothers who had a little support from Choro Calibre. The Pakistani teenage activist Malala too inspired Rukshan to write the song "I am Malala" which was performed by the talented Umaria who sang with the pretty Little Sopranos.
Another set of brothers who wowed the crowd were 12-year-old rock stars Sarith and Surith. The twins having won a local talent contest were nothing short of fire crackers on stage belting out contemporary rock tunes. Entertainer Rajitha Rupasinghe of Misty too was a special addition to the evening's line up. Mahen and Prashalini Peiris, Devshan Perera and Mariazelle Goonetilleke also performed Rukshan's originals while Harsha Makalande, Khrome and The Colombo Brass Ensemble also appeared free of charge for the special cause; guest performers included the likes of Derek Wikramanayake, Sureka Amerasinghe, Ruwan Weerasekera, Christo Dhason and Chrys Wickramanayake.
The evening brought together people who looked like they were having fun on stage; united not only by their love for music but by their belief that reconciliation and integration are the key to achieving true peace in our land.