Let them eat meat
View(s):

This week, there was quite a bit of a fuss over the killing of an eighteen-month-old giraffe. The ungulate in question was a denizen of a Danish zoo. It was considered surplus or redundant, somehow, because of a recommendation made by a European association of zoos and aquaria. These gents had sounded a caution about in-breeding if the long-necked critter was left to live out its life and mate. There was, if reports are to be believed, a real or imagined fear that some mutant strain of weakling giraffe would make something more rotten than it is in the state of Denmark. So Copenhagen's zookeepers shot the poor thing with a bolt gun and fed its carcass to the lions. After dismembering it and dissecting it for the viewing pleasure of visitors to the zoo.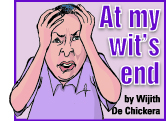 Animal rights activists were up in arms at the tragic plight of and pathetic end to Marius. Strange that even otherwise insensitive carnivores around the world (around the web, more accurately) were more than a tad upset at the callous attitude of the zoo's wardens. Stranger was the truth that there was no room at a first-class zoo for a surplus giraffe with a few rogue genes, such that its immediate disposal was warranted and executed in full public view.
Inquiries into the macabre matter revealed that space was, in fact, a constraint; and that the Copenhagen municipal authorities would not permit this specimen of the world's tallest mammal and largest ruminant to be otherwise disposed. Not even, as it turned out, through accommodating the invitations of other Danish zoos to permanently host the ill-fated beast, or a very generous offer to buy it out of a gruesome death sentence. The butchers would have their pound of flesh, it would seem. In the end, only the dead young giraffe had anything to complain about. The crowds reportedly loved it, children included; blood and gore and all. No two guesses what the sentiments of the lions was? Nice going, o ye great Danes! Not exactly berserkers, but the spirit of the Vikings seems to be alive and well…
The hoo-ha over the slaughtered giraffa camelopardalis not only raised a stink around northern Europe, but it also aroused the civic-mindedness of many citizens of another island race. Brits who were bemused by the plight of this ill-fated member of the world's tallest terrestrial animal species were short and to the point. Good idea to feed the lions, they agreed, in-between sips of pure tea imported from a faraway tropical paradise and disgustingly blended in Mincing Lane. But why not employ the sorry hides of British Parliamentarians rather than ruddy giraffes for the purpose? A few tough-minded constituents in marginal electorates suggested the names of the least useful of their MPs to be the first among the lion-fodder. A few tender-minded philosophers mulled over the possibility that the UK's prime cuts and chops of politico-meat would be poison to the poor lions. After all, it's not like there's too much protein in there, is it?
[Speaking of too much protein – and in a spurious effort to link the two countries mentioned above – here's a bit of not-unrelated news... Great Britain's tallest dog is a 7'1''-tall, 11-stone-heavy Great Dane, Freddy. Time to get back to the main article, folks.]
If you're thinking what I'm thinking now, you've read my mind. Congratulations. You're as clairvoyant as I'm transparent. There are plenty of applications from the mindless murder of Marius (that was its name) which readily spring to mind for immediate implementation in our own southern zookeeper's paradise. Permit me to share some of them and trust they are not too graphic for public consumption on a balmy Sunday morning.
Firstly: As with giraffes for our not so great Danes, so with stray dogs for the lions and other meat-eating beasts at our National Zoo. Just don't do it anymore, it's not done: it's not nice; it's not humane; it's not civilized. Not for a righteous triple-blessed society such as ours. Surely we have a stray dog menace, but too many runway pets get caught up in the maelstrom for this to be the all-too pragmatic remedy.
Secondly: As with elected and also appointed representatives of the people for gritty Brits, so with stray members of this house and that dynasty. Let's feed 'em to the lions? Whoa! Not for us the callous relegation of fat corrupt MPs to real leonine stomachs, though – we meant feed 'em to the lions, metaphorically. Once upon a time, much-loved and well-rounded members of parliament were able to hack the quips, quotes, anecdotes, and cruelly barbed comments and cartoons alike of journalistic hacks. No longer, it seems. The hacks throw the double-chinned MPs into lions' dens with their dingy double entendres. And the MPs for their part appear able to reciprocate only by throwing the hacks to the wolves. What a mangy state of affairs, a veritable circus maximus.
Last but not least: As with the resignation of Copenhagen Zoo's Director, why not civic and community pressure be brought to bear, in order to bring closure to our own slaughterhouse and killing ground – the Dehiwela Zoo? There is something rotten in it, too! Most animals there are treated worse than Brit MPs. We may not hack spare mammals to pieces, but compared to what we do to them anyway, that would be a mercy killing.