A kaleidoscope of voices and ideas
By Purnima Pilapitiya
The British Council's Active Citizens programme brings together young volunteers from around the world to share their skills and experiences
View(s):
The conference room at the Hotel Renuka was a kaleidoscope of young voices and ideas last month as the International Study Visit (ISV) of the British Council's Active Citizens programme drew to a close after a week- long session. The ISV provides a medium for young social activists from around the world to come together to share their skills and experiences on a single platform with the common objective of implementing change across Asia, Europe and Africa. Having received training in community development by the British Council's Active Citizens programme, the young volunteers- all between the ages of 18- 30 developed their own creative and unique approach towards working with marginalised groups.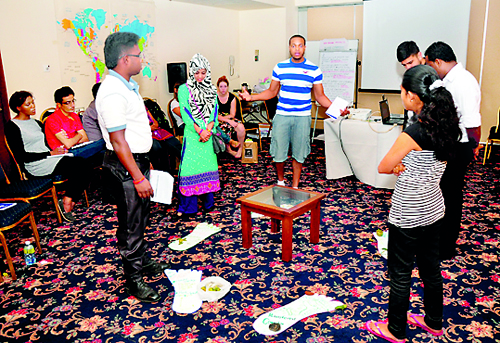 Their seven-day visit to Sri Lanka was not just another stamp in the passports for the activists hailing from Bangladesh, the United Kingdom, Pakistan, Egypt, Bosnia and Sri Lanka who each brought their own ideas to the table. Having travelled around Kandy, Galle and Matara they were given the chance to see various social action projects -the work of relief organisations dealing with children and orphans such as Team Muslim Aid and the H3 Foundation and also environmental conservation projects such as Green Revolt and EMACE in Kandy and Galle.
From working on domestic violence issues with British women from South Asia to volunteer work in post revolution Egypt and using forum theatre as a means of empowering children with learning disabilities, each young activist had their own story to share as they met for their closing session on Friday, January 17 .
Growing up in a small town in Bosnia never stopped Marijana Keresevic from thinking outside the box. In fact it was her confined upbringing that encouraged her to take up social activism. "There's not much opportunity for the kids where I come from," she says candidly. "I wanted to give kids opportunity. I wanted to give them a broad way of doing things."
Having recently graduated with a degree in Business, Marijana works at the Factory of Joy, an NGO committed to helping the community, which hopes to go international one day. They have plans to give senior citizens computer education. "We feel that it is important for seniors to be able to get about and not have to depend too much on others."
Sarah Javid from the United Kingdom is one of the youngest participants at this year's ISV. Just 18, this soft-spoken, theatre loving girl uses her passion for media and the arts to help other youngsters.
Sarah's golden opportunity arose when she was introduced to Ulfar Arts. A creative NGO, Ulfar which literarily means 'harmony' uses arts and media as tools of empowerment. Her defining moment came while watching a guest speaker address the audience. "It was amazing to watch one person make such an impact," she recalled remembering the reactions of the young people and teenagers present at the talk. "Till then I used to think that it was never my problem," she admitted referring to issues such as alcohol and poverty back home in the UK which affect many teenagers. "But now I know that it's everybody's problem. We have to help each other."
Sarah has done a lot of work with Ulfar for women and children using music, arts and media and used theatre as her medium of connecting with others on her trip to Sri Lanka. "I was able to watch Act4 do a forum theatre programme in Matara," she said. A non-profit organisation committed towards social development, theatre group Act4 has campaigned heavily against child abuse. Describing the experience as one of a kind, Sarah was struck by the power of theatre when at the end of the workshop a few girls bravely came up to share their experiences of abuse, with the audience.
On the other side of the world Anima Choudhury echoes the same determination. Hailing from Bangladesh, Anima, a university student chose sustainability as her field of interest. "It's important to think long term" is her credo. A member of the Active Citizens Batch 13 organised by the Centre of Communication Development, Bangladesh, they are currently working on an online programme for teenagers: Student Job Shop. Helping teenagers find part time jobs this tuition website hopes to be a sustainable medium for students to promote their skills, etc under the guidance of parents and teachers.
Being in Sri Lanka was almost like being back home for Anima. What struck her the most was the friendliness of the people she encountered. She felt this most during her stay in Kandy. "In spite of the language barrier there was so much of a bond between all of us," she says.
Selvanathan Selvarajive "Rajive" and Nilusha Paranavithana are two of the Sri Lankan volunteers who were part of ISV 2014. Nilusha, 23, is an undergraduate and long-time volunteer at the SOS Village in Piliyandala. Working with individuals who need special care and educational help is her calling. It's no surprise then that she is reading for a degree in social work. Rajive, an undergraduate from the Eastern University has come a long way from his humble beginnings in Uda Pussellawa. "When I came here I found so many things that I wanted to do," he says, talking about his first experience as a part of Active Citizens. A facilitator for the plantation community attached to the Ministry of Economic Development since 2006, Rajive is also a member of the National Youth Council and has represented Sri Lanka as a delegate at youth programmes in India, Pakistan and Bangladesh.
"It's all about give and take," says Rajive. He practises what he preaches not only as a part of the NYC and National Youth Parliament, but also back in his village where he is a teacher of Sinhala and Tamil while finding time to coach youngsters in Sri Lanka's favourite pastime: Cricket.