Asiri Surgical Free Surgery Project hosts special celebration
View(s):

Nine-year-old Gautam had a smile on his face and a blue balloon in his hand. The smile on his father's face was even broader. Ravikumar had brought Gautam along with his little sister to the Asiri Surgical Hospital to be a part of a special celebration as the hospital hosted underprivileged recipients and beneficiaries and the families of the Asiri Surgical Free Surgery Project to a celebration of thanks.

The one-of-a-kind Asiri Surgical Free Medical Care Project is a CSR initiative that selects needy children for free medical emergencies and surgeries. A brainchild of the Asiri Hospitals Board of Directors and supported by Dr. Manjula Karunaratne, COO of Asiri Surgical, Dr. Vivek Gupta, Snr Consultant Cardiothoracic Surgeon, Dr. Anil Perera, Clinical Director at Asiri Heart and Anaesthesiologists Dr.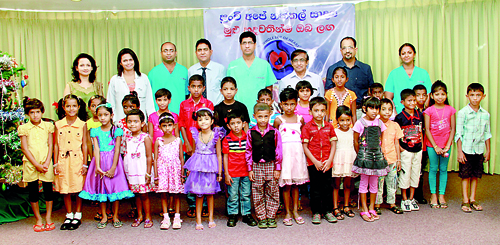 Lushantha Padmasiri and Dr. Gayani Senanayake, this initiative has, since its commencement in 2010, performed over 40 heart surgeries on children.
The children were entertained by a magician, hosted to refreshments and attended to by the staff of the hospital. Also attending the ceremony was Dr. Manjula Karunaratne, Dr. Vivek Gupta, Dr. Anil Perera, nurses and staff.
Speaking at the event, Dr. Gupta said that the Asiri Surgical Free Surgery Project conducts up to three medical surgeries each month. Patients are selected from a waiting list at the Lady Ridgeway Hospital in Colombo and from islandwide medical camps conducted by the Asiri Hospital. These medical camps reach out to families in distant and rural areas.
Dr. Gupta said, "If we can make a difference to a life, then this is what we will do. Every time we see the smile of a child who has been saved from life-threatening illness, it makes it all worthwhile."
Dr. Anil Perera added that the hospital select committee identifies needy children aged up to three years. "We have undertaken to perform up to three operations every month and this includes ten days of free after-care, medication and accommodation and facilities for the parents and consultations thereafter.
The Asiri medical camps are conducted across the island. These monthly camps help in early detection of diseases, conduct free testing and educate people about good hygiene and health. The entire team comprises 25 doctors, nurses and technicians.