Whodunnit? Playing detective with road names in Colombo
After spending five years here exploring his fascination with the history behind street names and name changes, Geoff Ells has published, Colombo Jumbo. Here he describes his work in an email interview with Smriti Daniel
View(s):
What's in a street name? When Geoff Ells first arrived in Colombo as a corporate trainer and English Teacher for the British Council he found himself curious about the street signs that carried the name of the road in Tamil, Sinhala and English. His young son Toby was just learning to read and Geoff knew just enough of the script to ask himself what he terms "the fatal question" – what did they all mean? From past experience, Geoff knew every name was a window into the past of the city. When he finally published 'Colombo Jumbo' earlier this year, he had succeeded in turning all those signboards into chapters in a truly unconventional history book.
"Street names can uncover history, both colonial and post-colonial: particularly the personalities, events, communities and changing landscapes which have shaped the modern city," says Geoff in an email interview.
He adds, "When street names are chosen or changed they reveal the religious, political and cultural values celebrated by different communities at different times." Geoff's research had revealed that when the British first arrived there were only two streets in Colombo, so street naming was only two hundred years old.
However, the origins of the names were much older. To discover some of them he had to play detective such as when he found Bambalapitiya gets its name from the jambola fruit tree. This is the Sinhala word, but the name is derived from a Dutch or Portuguese corruption of the Tamil word 'pampalimaasu.' "It took an obscure reference in an early 19th century Methodist memoir to establish this connection," he says.
When in pursuit of such oddities, he found the dictionaries could prove the most useful tools. As in the case of 'Bambalipitiya', local names may have been derived from any one of a number of languages – Arabic, Dutch, English, Pali, Portuguese, Sanskrit, Sinhala and Tamil. "These reflect a colonial and trading history and the influence of many communities on the languages and culture of Sri Lanka," he says.

By seeking translations he found the sources of these names: from flowers and plants to places, rivers and lakes and on to schools, places of worship, weapons and religious symbols. Sometimes, however, he was stymied. Fussells Lane caused him the "most difficulty and frustration," he says. "It could easily be a Burgher, British, French or German surname. Also, it could be a corruption of Faisal or Fazal. There are no records of any Fussells or Fussels in the usual sources and Muslims did not normally live in this area so the Faisal or Fazal is unlikely too. It is a mystery."
However, the majority of names were derived from people. Geoff found himself sifting through a dazzling array of people from all walks of life. Streets were named after individual land owners and businessmen; politicians and monarchs; artists, monks, musicians, saints, headmasters, surveyors, engineers, writers, soldiers, and film-makers. Here his dictionaries were of little use, instead he turned to biographical indexes; official lists of councillors, civil servants and politicians; records from government departments with a special interest in roads; Directories and Almanacs such as Ferguson's and Peterson's which were a mine of useful lists and facts as were online genealogies for tracing family names and histories.
Geoff's interest in Colombo's streets was initially haphazard as he 'bagged' streets at random, but he soon began to approach the task systematically using a few key books, websites and libraries. Over the course of a six-month secondment to Delhi he would spend his weekends online, looking for any information he could find. "Then, as now, I was gripped by the tales the streets told and the life stories I was discovering," he says. By the end 'Colombo Jumbo'would cover over a 1000 street names.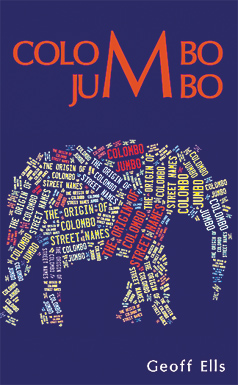 One of these was Anderson Road and how it was named after Sir John Anderson, the British Governor of Ceylon from 1916-18. Brought in to deal with the crisis caused by the over-reaction of the British government of Ceylon to the riots of 1915, he was 'the right man to soothe the outraged feelings of an embittered people' writes Geoff. 'He was forthright in his criticisms of the management of the disturbances and the convictions that followed (particularly the wrongful execution of E.H. Pedris – see Pedris Road). As a result of his enquiries 800 prisoners were released and he censured key personnel in the Police and Home Guard. Anderson is the only Governor to have died in service in Ceylon.'
Another fascinating personage was Edward Clarence de Fonseka better known as E. C. Jnr., the son of the plumbago (graphite) tycoon, Edmund Clarke de Fonseka. E. C. Jnr. owned 40 horses which he stabled at his property in Jawatte and raced them at Colombo Racecourse opposite Royal College. Writes Geoff 'given his passion for horseracing he decided to name the various parts of his property after famous British racecourses: 'Goodwood Gardens' was the name of the property itself; the main road leading to the property was called 'Ascot Avenue' and the two branch lanes were called 'Epsom Street' and 'Aintree Street'. E.C. Jnr raced his horses under the name 'Mr. Bert' (Bert was a nickname for his wife, Bertha) and was also a starter for the Ceylon Turf Club.'
As he went along, Geoff found himself growing interested in when street names were changed, why and by whom. Colombo had seen its fair share of street name changes, most of them during more 'nationalist' periods in the late 1950s, the 1960s and in the last 20 years but in many cases the old names persisted. "Duplication Road, Baseline Road, Green Path and Union Place are still popularly called by these names, rather than the 'new' ones," says Geoff.
After publishing the book and spending close to five years in Sri Lanka, Geoff recently moved to France where his fascination for street names continues with a soon to be published book on the Paris' street names. "Paris has over 6000 rues, but the logic and the history behind the naming is much clearer," he says, ruefully. Having tested his mettle – and his detective skills – in Sri Lanka, he knows this will be the easier task.
Colombo Jumbo is priced at Rs.1200 and is available at Barefoot.See further details and updates at: www.colombojumbo.com 
comments powered by

Disqus