Ramya and Soundarie back together for "Musical Colours on Two Pianos"
By Purnima Pilapitiya
View(s):
Ramya De Livera Perera's music studio is clearly a reflection of herself. Looking around at the piles of music books, children's trinkets and a poster of Beethoven, it's easy to see that she is equally passionate about her music as she is about her career as a music teacher.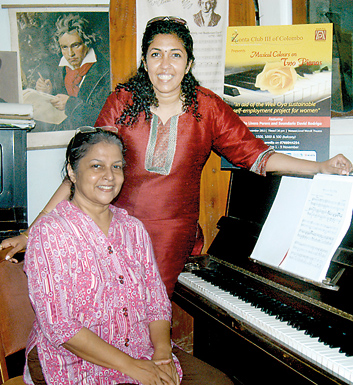 Such was the teacher -student relationship between Ramya and Soundarie David Rodrigo who, 20 years later still maintain the same, if not, stronger friendship. On November 19 the two will perform together as they present "Musical Colours on Two Pianos" in association with Zonta Club III of Colombo.
This is their fourth concert together. Ramya and Soundarie are known for dedicating their shows to causes; last year's being in aid of the Lanka Alzheimer's Foundation. This year's show is in collaboration with the Zonta Club III of Colombo who are in the midst of their latest project: providing sustainable self employment opportunities for the women living in post war Weli Oya. Zonta Club III has joined hands with Brigade 622 located at Halambawewa, Welioya to provide self-employment skills to 30 women, from the villages of Thissapura, Sinhapura and Halambawewa, in the areas of sewing, home gardening and hair and beauty therapy. 
The programme will include the overture from Mozart's "The Magic Flute" arranged for two pianos and excerpts from the opera Carmen. Young Joshua Asokan who will be performing an original fusion piece with two other young musicians.
"Musical Colours on Two Pianos" will be on November 19 at the Lionel Wendt Theatre. Tickets are priced at Rs. 2000, 1500, 1000 and 500 (balcony). For tickets please call Sharmila on 0766044254. Tickets will be available at the Lionel Wendt theatre until November 9.
comments powered by

Disqus