Friends of Prisoners' Children Workshop
By Purnima Pilapitiya
View(s):
October 26 was an eventful day for the Association of Friends of Prisoners' Children. The bright Saturday morning ushered in many eager and curious faces into the St. Bridget's Convent Hall for a workshop conducted by this society. 
The story of this Association began when Sr. Immaculate De Alwis visited the Welikada Prison years ago. Moved by the anguish of the prisoners, many of whose families lived through a dissimilar yet equal amount of suffering, she stressed on the role played by prisoners before their sentence; that of parents, spouses and most often the breadwinners of a family. With the help of Mrs. Priyanthi Dissanayake, she established the 'Association of Friends of Prisoners Children' in 2005,with the objective of providing a future for children in such situations.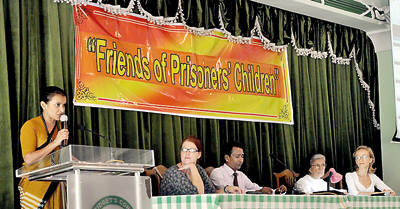 An educationist herself, Sr. Immaculate's aim was to provide scholarships for the prisoners' young children supporting them through their education and helping them onto a profession when they reached adulthood. Launched in 2005, the programme began with 47 students and today has over 200 students being supported by annual scholarships.
The workshop commenced with an interactive discussion on the mental and emotional state of children in such circumstances, with psychologists from Belgium and the United Kingdom, Sr. Immaculate and the chief welfare officer of the Welikada Prison on the panel. While the two psychologists elaborated on the effect imprisonment has on a family and children, the Chief Welfare Officer of the Welikada Prison Padmasiri Perera described the hard reality faced by the families of prisoners, including the social stigma that they have to face. Said Sr. Immaculate, "Our objective is to free these children from the burden of having to deal with their parents crimes."
An interesting feature of this project is the sponsor- child relationship. One of the speakers for the day, a sponsor, chose to share with the audience a letter she had received from the child she supports. At the end of every year the sponsors receive letters and progress reports regarding their sponsor children. 
Sulochana Dissanayake gave a presentation on the econometrical analysis of the feasibility of this association, while School principal Nimal Wijepala spoke about the life of some of his students whose parents were inmates and the struggles they had to deal with in school. An emotional highlight of the day was the broadcast of a former sponsor child's account of difficulties of growing up as the child of a convict. It ended on a hopeful note with the young man, now a brand manager at a reputed company, living a life of security and hope for the future.
comments powered by

Disqus