'LaverDome': Newest at Marine Drive
View(s):

New restaurants are opening in Colombo with much pomp and pageantry but some are history within very short period of time. Sustaining the food quality and the service are the two main factors of a restaurant.  The latest addition to the Marine Drive restaurant booming is 'LaverDome' in Bambalapitiya. Housed in the ground floor of Ocean View Towers off Bambalapitiya Railway Station Road, 'LaverDome' Restaurant is a Thai and Chinese specialty restaurant.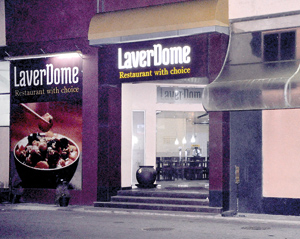 Started in June this year, the restaurant serves wide varieties of Thai and Chinese cuisine to the localities. Usually the restaurant is not a crowded place, where it has comfortable sitting for fifty pax. The Manger Jayapathi Silva, a hotelier with years of experience behind him, said that the restaurant comes alive only after dark.
'We are much popular with the diner during the evening and lunch time is a bit slow in moving' he said. LaverDome menu consists of Chinese favourites special Chow Pan chicken, sea food and mutton. Nasi Goreng, Thai style sea food Singapore style fried Chicken, Singapore style Chow Mein, sweet and sour prawns, chili prawns, chili crabs, fried crabs are some of the popular dishes at the restaurant.
Fish dishes such as fried Garupa, sliced fish garlic, fried Garupa in Cantonies sauce and fish in hot butter sauce are popular with families. The price ranges from Rs 550/ for small and up to Rs 1000/- per large portion, which is sufficient for three people.
'We do not serve beef and pork at the restaurant' Jayapathi said. LaverDome serves seven different packs in their take away set menu. The price ranges from Rs 350/- upwards. Outside catering for office functions and private parties are available.
'Outside catering segment of the restaurant is very popular and in much demand. We mainly cater for corporate and private functions and always with full service including well trained staff' he added.
For more information call LaverDome on 2506070. (Sanath) Pix by Ranjith Perera
comments powered by

Disqus