Aviraté joins hands with Cinnamon to host 'French Touch 2013'
Miss World 2013 to tour Sri Lanka with Miss France
View(s):
Whilst preparing for the much anticipated visit of the Miss France contestants to Sri Lanka in little over a month's time, Cinnamon Hotels & Resorts greeeted reigning Miss France of 2012/2013, Marine Lorphelin on her recent win as the first runner up for the Miss.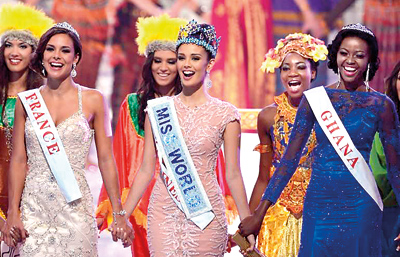 World pageant held in Indonesia, and looks forward to welcoming her to Sri Lanka, when she accompanies the 33 finalists of Miss France 2014. 
Meanwhile high-street fashion label Aviraté will be joining Cinnamon Hotels & Resorts in hosting 'French Touch 2013' – the gala fashion event which will be held at Cinnamon Bey Beruwala on the 21st of November.
The French fashion show in late November will be the latest in the industry calendar, studded with the culmination of the Miss.
France 2014 city-specific events, and their pre-pageant tour of Sri Lanka. What sets this show apart from the fashion shows seen locally, is who will be on the catwalk: the Miss. France 2014 contestants themselves, along with Miss France 2012/2013 and Runner Up of Miss World 2013, Marine Lorphelin.
Drawing inspiration from the guest nation, Aviraté will be unveiling its brand new French collection 'To France with love' at the show – a collection which is tipped to hit stores island-wide by the 1st of December. Inspirational elements of romance in France creates a love affair for the Avirate woman with a complete wardrobe solution – all geared for this stylishly compiled graceful escapade.
Miss. France contingent's tour of Sri Lanka is made possible by the national carrier of Sri Lanka, Sri Lankan Airlines and the leading hospitality brand, Cinnamon Hotels & Resorts.
comments powered by

Disqus