Female domination at YES Home Grown Awards 2013
View(s):

Ashanthi, Natasha Rathnayake, Kaushalya Fonseka, popularly known as KK, and Azi Sherif of 'The Sherifs' bagged the top Awards at the first ever YES Home Grown Awards Last Sunday (27 October) at Stein Studios in Ratmalana. Stein Studios was transformed to fit what YES101 passionately planned for many months, 'The YES Home Grown Awards 2013' which went LIVE from Stein Studios and on MTV Sports.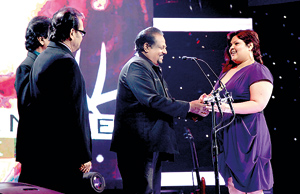 Excitement was high in the air because no one knew what was to be expected at Sri Lanka's first original music awards designed to reward and honor local English musicians who have bought the nation much pride with their passion for music. 
Anyone who attended the awards would call it a star studded night which was filled with upcoming musicians and big stars from various fields of entertainment.
'The Pre-YES Home Grown Awards 2013' kicked off at 6.00 pm with host Bryan who did the honors of interviewing few of the nominees like Azi Sherif and The Sherifs, Ashanthi, Randhir, and KK, presenters Sohan Weerasinghe, Sunil Perera, Aruna Siriwardena, Maxi Rozairo and Corrine Almeida to name a few. 
YES Home Grown Awards 2013 started at around 7.00 pm with the opening act consisting of the famous percussions outfit, Naadro, first female Sri Lankan beat boxer Dineli Sun and talented Anthony Surrendra along with the nominees DJ Diru and Shiran-ta performing their songs 'Wannama' and 'Arugam bay'. The act came to an end with nominee and vocalist Sheaam Deen singing away the famous Daft Punk song 'Get Lucky' to the beat of 'Arugam bay'.
The hosts of the night, Radio Personalities Ryan and Jeromy officially kicked off The YES Home Grown Awards with the introduction to the awards night and its awards. 
YES Home Grown Awards 2013 rewarded artists in 9 categories: Best Male, Best Female, Best Cover Track, Best Acoustic Track, Best Hip Hop, Reggae or Rap Track, Best Electronica, Best Band, Duo or Group, YES Home Grown Listeners Pick Award and YES Honor Award.
The queen of R&B, Ashanthi bagged two awards: Best Acoustic Track for 'Walk In The Park' and Best Cover Track for 'How To Love' while Natasha Rathnayake won the Best Hip Hop, Reggae, Rap and R&B Track for 'Worship My Body' and the YES Home Grown Listeners Pick Award for 'Takin' It Off' with The Sherifs.
Azi Sherif of The Sherifs fame, who was individually nominated in 2 categories while The Sherifs were nominated 4 times, won the Best Male award for his track 'Heaven' while the Best Female Award was bagged by KK for her song 'How it's done'.
The Best Electronica award went to upcoming producer Pasan Liyanage for his track 'Give Me More' which features the vocals of Georgie Alice. Percussion band hailing from Hikkaduwa, Elephant Foot won the Best Band, Duo or Group award for 'Ali Adiya'.
The YES Honor Award equivalent to the Lifetime Achievement Award went to Prasanna Abeysekera from the legendary band Cancer. Wagon Park paid a tribute to Cancer by playing their hit song, 'Footboard Feeling' followed up by Wagon Park's nominated single, 'Jingi Bingi Blues'. 
Invited on stage to give away the awards to the winners were a set of legendary musicians such as Naushad Rassool, Suresh de Silva, Keerthi Fernando, Infaas, Shiraz Rude Bwoy, Harpo Gooneratne, Tareeq Musafer, Raj Seneviratne, Maxi Rozairo, Sohan Weerasinghe, Dalreen Suby, Corrine Almeida, Noeline Hunter, Wildfire, Sunil Perera and Aruna Siriwardena.
The judges for the YES Home Grown Awards consisted of a panel of 7 legendary professionals musicians with musical experience of over 15 years. The judges were: Ranga Dasanayake, Avril de Valliere, Tareeq Musafer, Chitral Somapala, Shehan Karunatilaka, Andrew de Silva, Ranil Goonawardana
The 90s Sri Lankan rappers from Colombo Tribe Project featuring Shiraz Rude Bwoy, Randhir, Huzni, Krishan and Lunitunez performed their hit single, 'Run this town'. Natasha Nathanielsz aka Marian Elsz who was nominated in the Best Female category also performed her nominated track, 'These Days' at the awards, impressing the crowd with her harp skills and her unique voice.
Having won two awards, it was only expected for Ashanthi to perform and that she did. She sang her single 'Rock the World' while dancers lit up in LED costumes performed some interesting moves. 
The awards came to an end with a highly energized performance by The Sherifs featuring Shermaine Willis and the dancers. Azi Sherif belted out his hit single, 'Heaven' followed by 'Ryze' and 'Shine' with vocals from Shermaine. 
comments powered by

Disqus