'If you believe in something go for it'
By Poornima Pilapitiya
Interested in voluntary work from a young age Sashenka Lakshmanasingha has become a leading advocate for social issues in her new home Australia
View(s):
Life is full of uncertainty. For Sashenka Lakshmanasingha, life certainly has been a roller coaster ride. Having left Sri Lanka at the age of 16 with her family she had to rise to the challenge of change faced by any teenager along with adapting to her new home in Australia.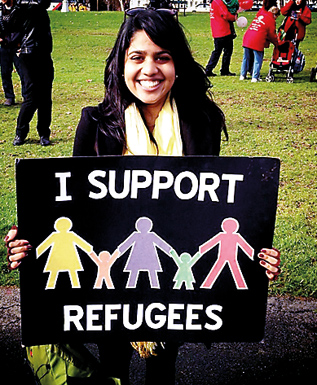 She adapted quickly, becoming an advocate for social issues at a young age. At 21, she is a member of the Australian Youth Climate Coalition (AYCC) and State Director for World Vision's Youth Movement (VGen). More recently she was one of the three South Australian finalists for a Pride of Australia medal (in the Fair Go category).This medal is for an Australian permanent resident or citizen, born overseas, who has enriched Australia through their community involvement, hard work and willingness to embrace their new home.
Born and raised in Sri Lanka and a student of St. Bridget's Convent and Stafford International School, Sashenka was a member of the debating team and an active participant at the annual SLMUN conferences. Sashenka enjoyed her swimming, drama and debating but also showed a keen interest in volunteering. It was the tsunami in 2004 that really shook her. "I took part in the SLMUN conferences hoping to get more involved. But because I left Sri Lanka while I was still pretty young I wasn't able to do as much as I hoped," she says. 
It was after moving to Australia that Sashenka's passion for volunteering was steered on course. "It helped to have a group of friends who were also young activists," she said, recounting the campaigns organized at school and university.
It was then that she was introduced to the Australian Youth Climate Coalition (AYCC) and World Vision Youth Movement (VGen). With the AYCC Sashenka travelled to South Africa for the United Nations Climate Talks and has participated in several conferences and workshops carried out for young people on climate change, human trafficking and political engagement. 
VGen is a worldwide community development organization with 22,500 members working in 96 countries that provides short-term and long-term assistance to people worldwide. Sashenka has been working with VGen for a period of time, having been selected as one of their school mentors in 2010. This meant that she mentored school leaders to run groups and work towards social justice. Late last year she was appointed as the State Director for VGen, South Australia and Northern Territory.
Sashenka's biggest strength has been her family- supportive and inspiring. Studying for a double degree in Law and International Relations at the University of Adelaide, she also works close to 20 hours a week as a volunteer at VGen. As if she didn't seem busy enough Sashenka also has a part-time job in a supermarket at the cashier. However this hectic lifestyle has her completely unfazed.
Sashenka's plans for the future are still hazy. She doesn't know whether she wants to become a lawyer or follow another career path. But one thing is for certain. Regardless of whatever career interests her she will continue with her activism. "You should never change your interest or passion but instead do it with a conscience. If you truly believe in something go for it. Any movement starts with one person."
comments powered by

Disqus