The Ladies do their own 'Sister Act'
View(s):

A lounge singer masquerading as a nun so she can save a school-now we've really heard it all! It'll be a 100-strong act when the young thespians of Ladies' College take to the stage this month for the Whoopi Goldberg classic 'Sister Act', a musical based on the film and Broadway versions of the same name.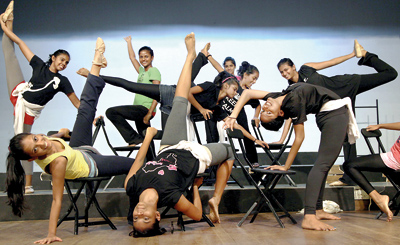 It's been a while since they've put on a show of this scale, says teacher-in-charge Viranthi Cooray who hunted for the perfect script for "what felt like ages" till she was struck by the similarities of the Sister Act setting for her performers. "The fact that it was also about a school made it ideal for a school production," she smiles. "We've decided to mix up excerpts from both the movie and Broadway versions to really bring out the musical element of it."
The story follows the adventures of lounge singer Deloris Van Cartier, who gets called back by her friends (funnily enough, nuns) as Sister Mary Clarence to teach music to a group of students in a school doomed for closure. One of the girls-the most talented of the bunch-is forbidden to sing by her mother, although the choir has made it to the state championship. As if trying to reach out to a class full of uninterested students isn't bad enough, the Sisters discover that the school is due to be closed by the unscrupulous local authority chief Mr. Crisp. It's a lot going on but that's what will keep the audience hooked, they say. "There's never a dull moment!"
The musical will be directed by the renowned Mohamed Adamally together with wife Nadirah. Adam's first musical was with the Ladies' College girls as well (The Hunchback of Notre Dame in 2008) so he didn't have to think twice about coming onboard with this one. "It's a very interesting experience working with these guys," he grins, looking over at the excited cast taking over the rehearsal space at school. "We've only had a month and a half to rehearse-nowhere near long enough-but the girls are giving it their all."
The cast has, in fact, been rehearsing every single day right throughout the school holidays-and have now given up their afterschool hours too. "Their energy is fantastic," smile the directors. "They've learnt very quickly." Most of the cast will happily tell you that Adam has been instrumental in allowing them to pick up their own pace without too much nitpicking. This is a common mistake in directing amateurs, says Adam. "Much better to let the kids pick things up on their own."
The challenge was in adapting what is essentially a film script on to the stage, he adds. "It's become a little experimental because of this. We've also had to get over the fact that pretty much everyone has watched the movie-so we've made a conscious effort not to replicate it on stage." Anyway, Adam will tell you, it's impossible to reproduce a Whoopi Goldberg. Nor do they want to. Come judge for yourself two weeks from now-Sister Act goes on the boards on September 20, 21 and 22 at the Ladies' College School Hall from 7 p.m. onwards.
The musical score is arranged by past pupil Thivanthi Perera, with Neranjan de Silva on keyboards, Christopher Prins on drums, and Bhagyani Benedict and Thivanthi herself on piano. Choral direction is by Beatrice Devasagayam and Anushka Abeynayake while choreography will be by Srija Nair.
Tickets priced at Rs. 1500, 1000 and 750 are available at the school office.
comments powered by

Disqus