CfPS Law School offers University of London LL.B Degree in Sri Lanka
View(s):

Education is one of the most sought after qualities in this modern world, and in this global environment it has become a greater need to obtain a truly international qualification. However, with high cost involved in studying overseas, it is a great relief for many students to learn that they can pursue an international qualification without leaving the shores of Sri Lanka. A greater reward is when students are offered with an opportunity to study through a scholarship.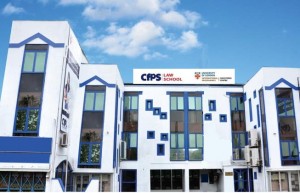 Excerpt from the University of London international programmes official website-
''CfPS Law School has been in the forefront of legal studies in Sri Lanka for the past 22 years. An undisputed leader in the field today, CfPS is the largest institution in the private sector conducting legal studies in Sri Lanka.
Key strengths:
1. An academic faculty comprising a panel of reputed personalities in the legal sphere in the country
2. Highly interactive lecture sessions which ensure that students receive individual attention helping them discover and improve their potential.
3. State-of-the-art lecture halls, which are geared with the latest in educational material and information technology. Facilities which include free wi-fi; library access throughout the week, and staff assistance.
4. Career guidance is an integral part of the foundation of the CFPS Law School, with students receiving numerous opportunities in furthering their careers through special programmes.
5. Students are provided with many unique opportunities to explore their abilities, and fine tune their skills through moot court sessions, informative court visits, educative Parliamentary visits, student union debates and many such activities.''
''It was in 2011 the CfPS launched the scholarships scheme for the students'' said Mr. Nanda Muruttetuwegama, the Managing Director of the CfPS Law School. ''We want to motivate our students and to recognize the talented and enthusiastic students. We offer one full scholarship which is named after Sir Ivor Jennings. CfPS takes care of the students payments towards the University of London as well as the local tuition fees payable to CfPS. '' added Mr. Nanda Muruttetuwegama.
The other scholarships also on offer are 100%, 50% and 25% scholarships on the fees payable to CfPS. ''Students are selected based on an examination conducted on IQ, General knowledge and an English written exam followed by an interview'' added Mr. Nanda Muruttetuwegama. ''We offer 100 scholarships worth Rs/ 15 Million, and we want our students to benefit from this and to obtain a good education.''
Students are awarded the scholarships at the CfPS open day, which is also attended by representatives of the University of London. The scholarship is offered for both the February as well as the September intakes for each year. These scholarships are currently on offer for the LL.B Degree students only.
The CfPS Law School also offers a Diploma in Law for students, ''this is essentially for students who do not meet the entry requirement for the LL.B degree, because their A/L grades do not meet the entry requirements. The diploma is essentially the first year of the degree programme but students have extra teaching hours; if they have sufficient marks at the end of the year, then the student can transfer directly to the second year of the degree. So this provides opportunities for students who are genuinely interested in studying law'' added Mr. Nanda Muruttetuwegama.
The classes for Diploma students are carried out on weekdays, while on weekends, classes are dedicated for the LL.B degree students. CfPS Law school also hosts an excellent orientation programme preparing students on sessions like, study skills, specific research methods etc. that aim to develop the skills that will enable them to have a successful education.
So who should apply for the scholarship for the LL.B degree at CfPS? '' If you are a person who reads, and has general knowledge and you have basic English, our aim is to see how expressive an individual is and to gauge their general knowledge. They should have an open mind. These are all interests that help in studying law'' added Mr. Nanda Muruttetuwegama.
''We encourage students with minimum two credit passes for A/L to apply for the degree, they should also have a Credit pass in English and Sinhala at O/L.'' added Mr. Nanda Muruttetuwegama. He further added ''at CfPS we have an excellent lecture panel and we maintain a very high standard. They are all highly qualified and armed with knowledge gained through practicing as lawyers.''
The CfPS Law School has an atmosphere that is very friendly and helpful; it is located at the heart of Colombo and has easy access. The centre also offers students visits to court sessions and parliament visits from the first year itself.
Mr. Nanda Muruttetuwegama added '' through CfPS students gain easy access to a World class University of London degree as they do not have to compete with thousands of international students, so if you meet the entry requirements, admission is guaranteed''
You can also log on to www.cfps.lk for more information regarding our programmes.
Follow @timesonlinelk
comments powered by

Disqus