President and PBJ get most number of 'votes'
View(s):

BT poll: Who is responsible for power rate hike

President Mahinda Rajapaksa, as Minister of Finance, and Treasury Secretary Dr. P.B.J. Jayasundera received the most number of 'votes' during a Business Times (BT) poll which asked: "Who is responsible for deciding the electricity price hike?"

Four names were given – a) the President, b) Power and Energy Minister Pavithra Wanniarachchi, c) former Power and Energy Minister Patali Champika Ranawaka and d) Treasury Secretary Dr. P.B Jayasundera, and respondents asked to make their choice. The results of the email poll showed that 39 per cent of those polled said the President was responsible, 18.8 per cent said Dr Jayasundera should take responsibility while another 12.5 per cent (A+D) held the President and Dr Jayasundera, as jointly accountable. The Power Minister received 7.8 per cent while 11 per cent of the respondents said 'all' the four were responsible. The former Power Minister didn't get a single 'vote' except for coming under the category of 'all'.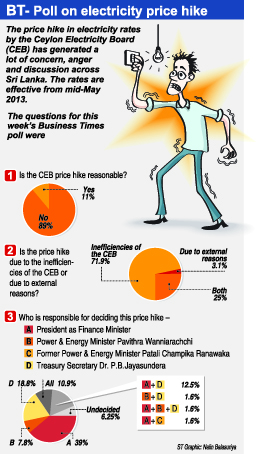 The price hike drew condemnation and outrage across the country, forcing the President to announce concessions at the ruling party's May Day Rally. The poll was conducted before May Day.
The majority (89 per cent) said the CEB price hike was unreasonable while 71.9 per cent said it was due to the inefficiencies of the institution.
Among the comments received were:
On price hike:
=It is unreasonable because the rates are not computed on the operational costs of generating electricity but includes the cost of servicing CEB's accumulated liabilities and the non-payment by state institutions for the power they consume.
=It is better for the government to pass on the cost rather than try to subsidize it and end up printing money to pay for it.
=A price hike is okay as long as consumers benefit from low-cost power generation in future. Pricing should be reflective of generation and transmission cost – this is the only way consumers will become more aware of CEB inefficiencies and demand that inefficiencies be minimized.
=The rise is a combination of multiple factors but mismanagement and inefficiencies tops them all
=There has never been proper monitoring and control of the power sector. Consumers feel that tariff hikes are random and ad hoc. Someone has woken up and is now trying to redress the balance between cost of power generation and tariffs charged. The power sector has been 'sleeping' all these years. Has any research on alternative power sources being done, and if so what has happened? While the world's fossil fuel resources have depleted, our answer is coal fired power generation … another environmental nightmare! Had there been better planning the public needn't have to suffer such 'shocks'. More money in the consumer's pocket can make COL increases more bearable. This is not happening in a fair manner….it seems the rich are getting richer and the poor, poorer.
On the CEB's responsibilities:
=If it were external factors then power providers in other countries would also have to hike rates
=Two reasons: Wrong source of fuel and absence of competitive pressure across the electricity supply chain to improve productivity leading to lower cost.
=Mainly due to external factors such as delay in implementing cost effective power plants without depending too much on thermal power.
=A bit of both. Power wastage, illegal tapping and whole lot of other reasons constitute the buck passing that is going on between the CEB and the MCs/ Pradeshiya Sabhas. Someone needs to take responsibility and act. Then there undoubtedly is pressure exerted by those agencies that lend money to Sri Lanka (IMF and others) to put our house in order.
=As a result of over 25 years political bungling by successive governments
On who of the four is responsible:
=All four and their predecessors, for never attempting to fix the problems, and passing the burden to the people.
=Neither of the four mentioned. The Public Utilities Commission put forward a tariff revision proposal based on allowable expenditure for the CEB in 2013.
=Who knows? But whoever it is, there has to be a better planned approach to this issue.
=The President who is the Chief Executive and all powerful and nothing is decided without his assent.
Follow @timesonlinelk
comments powered by

Disqus