'Acting' President Priyankara on cloud nine
View(s):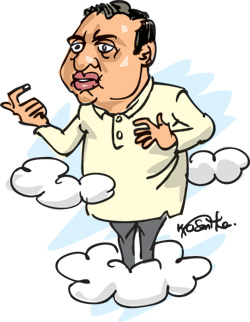 The opening of the Mattala Rajapaksa International Airport (MRIA) last Monday made him so ecstatic. 
At the nationally televised event, Aviation Minister Priyankara Jayaratne said the Bandaranaike International Airport (BIA) in Katunayake was not international. It was the MRIA which had all the attributes of an international airport.
He had reason to be so bubbly. It was only the day before the event that he had acted as President at a rehearsal. Minister Geethanjana Gunawardena and several Parliamentarians, including Namal Rajapaksa, were present.
It was Namal who was first invited to stand in as President as the mock ceremony was to get under way.
The Hambantota District MP was shy and said that even during a rehearsal he would not want to do that. Perhaps a good trait when Namal the young politician is pursuing a political career in his father's footsteps. He is careful not to give room for misapprehensions.
"Methana inna ayagen jeyeshtama Priyankara amathithuma. Ey nisa oba thuma Janadipathi boomikawa rangapanna (the most senior politician here is Priyankara Jayaratne. So you can act as the President)," said Namal.
Jayaratne blushed but lost no time in playing his role. It is not always that a UPFA politician gets to be the 'acting' President. So, no wonder he was swept off his feet and his head was in the clouds as he spoke the next day.
Rajaratnam brother also indicted on insider- dealing charges
When Sri Lankan expats hit the front pages of the New York Times or the Wall Street Journal, it's invariably either for fraud, insider stock trading or medical malpractice.
A physician in Los Angeles, apparently owning two Rolls Royce limousines, was hit with a massive fine and a jail sentence a couple of years ago. Last year, another physician in New York was arrested by Federal agents for writing hundreds of prescriptions for pain killers, a controlled drug, even without meeting his mostly fictitious patients.
But the most notorious case revolved around Raj Rajaratnam, head honcho of the Galleon Group. He is now serving 11 years in a federal prison after his sentencing in May 2011. Two of his associates, an Indian and an American, were subsequently found guilty of conspiracy and securities-fraud charges and jailed. But the end is still not in sight, with more co-conspirators being forced out of the wood.
Last week, the ruthlessly long arm of the law, reached out to Rajaratnam's youngest brother, Rengan, who is living in exile in Brazil. The 42-year-old stock broker, who worked for his brother's hedge fund company, has been charged with six counts of securities fraud.
According to the Wall Street Journal, Rengan led the high life in New York with his ill-gotten gains, very much like his brother, Raj. At social gatherings, he insisted on the finest cognac and cigars (maybe Cuban?) and claimed that he had a black belt in martial arts. The Federal Bureau of Investigation (FBI) will pursue him — even if it be the Amazon jungles of Brazil, said one who is aware of the goings on.
All of these expats, incidentally, are from two of the most elitist schools in Colombo. Obviously, they were not taught these dirty tricks at school, but wherever they learnt how to manipulate stocks and defraud the US medical system, they didn't learn one of the basic rules in a crime caper: "Steal, but never get caught", remarked a friend.
As one wag from a rural Sri Lankan school now doing well in the US jocularly cracked: if this crime trend continues over the next 10 or 15 years, Sri Lanka could stage a gala cricket match between the old boys of both schools in a federal penitentiary, one of the meanest and toughest of US prisons, either in the state of Pennsylvania or North Carolina.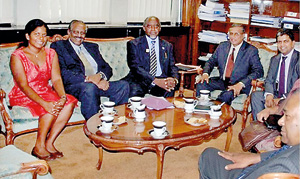 Were they behind Botswana's abstention in Geneva?
Did the Britain-based Tamil Global Forum (GTF) and the Tamil National Alliance (TNA) in Sri Lanka jointly lobby Botswana to abstain from voting when the US resolution against Sri Lanka was taken up at the United Nations Human Rights Council sessions in Geneva on Thursday?
Just days before the voting, GTF's Suren Surendran and TNA Parliamentarian M.A. Sumanthiran, as the picture here reveals, met the Botswana Foreign Affairs and International Co-operation Minister Phandu Skelemani. Some officials of the South African government were also involved in the discussions.
Namal says dirty jobs given to him
UPFA Parliamentarian Namal Rajapaksa devotes a day every week to meet the people, especially from the Hambantota District. Last week, he was at Carlton House, the family home in Tangalle.
UPFA MP Udith Lokubandara and Provincil Council member Kanchana Wijesekara had turned up to see Namal. They were by his side as he listened to different requests from those visiting.A lady from Panadura walked up to Namal and said she needed a letter from him to obtain a route permit. Such permits are issued to those operating private bus services.
"Aney nendey mata ewa karanna behe. Eka karanne tender walinne. (Sorry Aunty, I can't do that. It is done according to tender procedures)," he said. The lady shot back "Eka karaganna puluwan, oba thumage liyum kellak vitharai oney" (It can be done. I only need a letter from you).
"Kawda kiuwe magen liyumak oney kiyala. (Who said a letter from me is needed)," Namal asked.
"Hama kenama kiyanna deyak mahaththayo. (All are saying, Sir)," she said. "Balapan machan, okkoma kunu bere wewata wage karanna beri weda okkotama mage pitata danawa. (See, mates, like dumping all waste into Beira Lake, they are loading things that cannot be done on my back)," Namal told his two friends and colleagues.
Rebel MP singing his way to Wayamba CM's post
Ruling UPFA circles are abuzz with reports that a top rung opposition Parliamentarian may give up his seat to contest the upcoming Wayamba Provincial Council elections from the government side.
Insiders say he is being earmarked for the post of Chief Minister. The new role may not be bad for the man who has sung his way to the top of the political ladder.
War pictures: Defence camera focuses on TV man
Defence authorities say they have identified the man who was responsible for providing battlefield photographs to pro-Tiger guerrilla groups overseas. He had been in the frontlines when the military crushed the Tiger guerrillas in May 2009, representing a lesser known television channel.
He had since emigrated with his family to a western country, they say. Sleuths are busy tracking his past activities.
GL reacts angrily to Canadian Senator's comments
Here is an abject lesson on how Sri Lanka's diplomacy is being conducted. No matter if it pays dividends or not.
Canadian Senator Hugh Segal is in Sri Lanka on a 'fact finding" tour for his country's External Affairs Ministry (EAM) ahead of the Commonwealth Summit in Colombo in November.
After ending a tour of the North, Senator Segal gave a talk at the Kadirgamar Institute for International Relations and Strategic Studies this week.He spoke of the positive developments, notwithstanding some setbacks that he witnessed, prompting those in the audience to get the distinct impression that the Senator would give a somewhat favourable report on Sri Lanka to the EAM in Canada.
Came question time and a journalist in the audience asked for his views on the independence of the judiciary. The Canadian Senator replied that in his country, courts often gave judgments against the Government, but they did not impeach the Chief Justice as a result. He said he was proud of the independence of the judiciary in his country.
Who should get irked? It was Sri Lanka's number one diplomat, External Affairs Minister G.L. Peiris. In a burst of anger, Peiris was to tell the Senator in the presence of all, that had he not been a guest of the Government, he would have known how to deal with him.
Naming, shaming and issuing threats seem to be now part of Sri Lanka's megaphone foreign policy that rises like a lion at home, but is like a pussycat abroad. "Now", said a distraught member of the audience " wonder what the Senator will have to report on Sri Lanka".
Fonseka's men knock on UNP door
With no official recognition for his political party so far from the Commissioner of Elections, former General Sarath Fonseka's supporters are trying to find a way out to be in active politics in the opposition.Recently one of them reached out to United National Party (UNP) leader Ranil Wickremesinghe. He has often said that people who want to join the party could easily enrol themselves as members by paying the required fee.
So, the position was spelt out. There would be no official posts for those who want to join in. However, Wickremesinghe said there were prospects for the group to join his broader alliance. He wanted the interlocutor to speak to UNP General Secretary Tissa Attanayake to get more details. The matter rests there.
Hangmen hanged
Two hangmen, who were recruited by the Prisons Department, have been fired.
Both were attached to a training programme after they were recruited recently following an interview process.
The duo who had gone on leave did not report for duty on the due date last month. Later they submitted appeals saying both had fallen ill.
Now prisons officials are mulling with the idea of providing training on "hangman's duties" to those who are already in their cadre. The question is who would volunteer?
A witty prison official said they also might fall sick.
Jayasekera gives advice to teacher GL
For Speaker Chamal Rajapaksa, who has to mostly chair proceedings of Parliament, life is not always drab.
He injects his own sense of humour during speeches by both sides in the House. One such occasion came this week.
United National Party's Kurunegala District Parliamentarian Dayasiri Jayasekera was on his feet. He referred to an occasion when popular singer Nanda Malini was subjected to harassment at the Kuwait airport.
Mr. Jayasekera asked External Affairs Minister G.L. Peiris to conduct what he called an awareness programme for Sri Lankan envoys overseas. This was to avoid repetitions like the one faced by Nanda Malini.
Speaker Rajapaksa quipped "Golayakugen guruwarayata labena upades piliganna (or accept the advice of a student that is given to his teacher)".
Many of the MPs did not know the nuances of what Speaker Rajapaksa said. Jayasekera, before being elected MP, once served as Co-ordinating Secretary to G.L. Peiris and was one of his law students.
Follow @timesonlinelk
comments powered by

Disqus