Blue Skies, fun and learning
By Aanya Wipulasena
A montessori that truly has the child's interest at heart, say its founders Nadine Shums and Uzmila Fayaz
View(s):
Nadine Shums and Uzmila Fayaz met at the Good Shepherd Maria Montessori Training Centre at St. Bridget's Convent and became immediate friends also discovering they had a mutual objective, to start their own little school.
It took a few years before their dream actually came true. Last Monday (September 10), Nadine and Uzmila opened their own Montessori -the Blue Skies AMI Montessori House for Children at Battaramulla.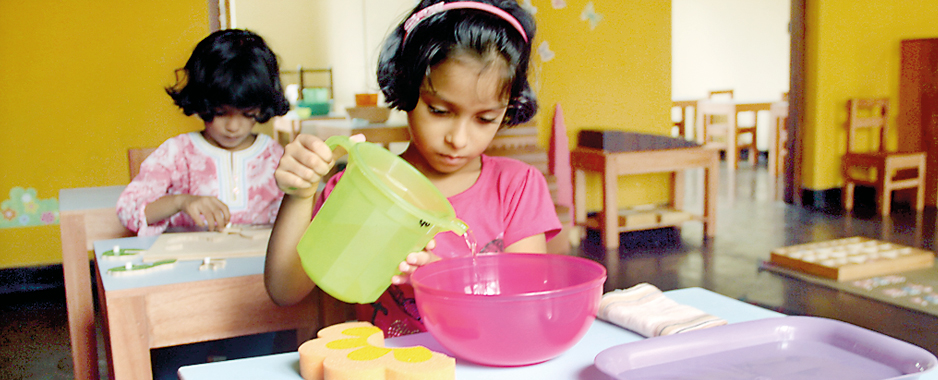 "When we first met I knew that Uzmila would be my partner because she was as interested in putting up her own school as I was but we had to gain sufficient experience and knowledge before we did so," said Nadine explaining that after two and a half years at the Joyce Goonesekere Montessori and another year at two different schools she knew that she was ready.
However, it took almost a year for the two friends to find a suitable place.
"We had to search for months before we came at last to the place we thought was the most ideal," Uzmila said adding that Blue Skies now is what they dreamed of: A beautiful garden, safe environment, enough room for play, a parking area and convenient for parents to drop their children off during rush hour.
Nadine explained that they came up with the Montessori's name because a child who is 2-5 years of age wants to live and learn in a friendly and homely environment. "Little children don't want to learn to read and write- that is what the parents and society want. Because we follow Dr. Montessori's pathway we believe that what children need at this age is to learn about their environment, to conduct themselves in it and have a happy childhood and happy childhood memories which we are positive our Montessori will be able to provide," said Nadine.
Uzmila, a mother of three herself, who having lived abroad for some years, looking after her children on her own too has ample experience in handling youngsters. "I didn't want maids to look after my children and I saw them grow up. Now I know what a child is interested in and how I can approach them. With my own experience I know I'll be able to help and guide pre-schoolers," she said.
They plan to recruit new teachers who are Association Montessori International (AMI), Netherlands certified. Since Dr. Montessori's method is a scientific approach to a child's growth and education they want their new teachers to be educated in this method.
"We are here to guide and build a keenness to learn within the child," Nadine and Uzmila explain.
The Blue Skies AMI Montessori House for Children is located at No. 830, Rohina Mawatha, Battaramulla. For more information contact 2785848, 0777330585, 0773828940 or mail:blueskiesmontessori@gmail.com
Follow @timesonlinelk
comments powered by

Disqus