The king and his tainted jesters
View(s):

My Dear Mahinda maama,

I thought I must write to you again to congratulate you on yet another election victory in Sabaragamuwa, Rajarata and the East although I heard that they are still haggling over who will control the East and Rauff is trying to strike a hard bargain.
I must admit it is a creditable performance by you and the Blues because you had to deal with Z scores, leaked examination papers, power cuts, polluted petrol and even droughts and floods, not to mention some of your ministers and Chief Ministers who seem to grab every opportunity to make fools of themselves.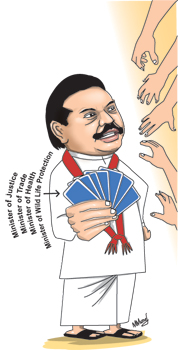 Now, a little bird whispers that you were biding your time until these elections were over to reshuffle your Cabinet. About time too I would think, although I have my doubts whether we will be dealt a better hand by merely reshuffling the same pack. Anyway, should you wish to do so, I do have some suggestions.
For starters, you should appoint that chap Keheliya as Minister of Defence although you hold that job yourself. I say so because, when he was asked the other day as to why young Malaka was not arrested when he was at the Kelaniya temple, Keheliya said it was because it was inappropriate to do so at a sacred place.
Why, Mahinda maama, all you have to do is to appoint Keheliya as the Minister of Defence and all our criminals and most wanted men will rush to seek refuge in the temples, churches, mosques and kovils. And we won't need prisons anymore because all the criminals will remain in these safe havens!
Of course Keheliya didn't quite explain why Malaka was not arrested when he left the Kelaniya temple but then we have to excuse Keheliya as well. After all, he did have a serious fall and injure himself while touring Australia recently, so we can't expect him to be the brightest of the lot after that, can we?
Then, Mahinda maama, I think you must draft that young girl Hirunika into the Cabinet. There she was, just a few weeks ago, vowing to fight for justice and fair play, wanting that chap Duminda arrested and promising to avenge the death of her father. And didn't we all think what a courageous girl she was?
And just last week, there she was again, sharing the same stage with some of your ministers, some of whom were good friends of Duminda, and pledging solemnly that she will do whatever it takes to strengthen your hands! Ah, wouldn't she make a great politician? And what better job for her than Minister of Justice?
I say so because she too appeared in Kelaniya smiling for the cameras alongside who else but Malaka! I am sure, the budding lawyer that she is, she will convince us as to why she wants Duminda arrested while posing for the cameras with Malaka who is evading arrest! Ah, Mata Hari must be blushing in her grave!
And if you are appointing Hirunika as the Minister of Justice, surely Rauff must be found a new job and what better job for him than becoming the Minister of Trade? He is a wheeler-dealer and a seasoned campaigner and he has struck a bargain with his decision to contest the East without being part of the Blues!
Then, you must also consider appointing young Rishard as the Minister of Telecommunications. There is no better person than him for this job because he knows everything one needs to know about telephones, including how to call someone and then pretend that your brother did it!
And how can we forget the incomparable Mervyn? He is running around like a headless chicken trying to prevent all these animal sacrifices so he must surely be rewarded for his efforts. I think you should appoint him the Minister for Wildlife Protection.
Hopefully, that would keep Mervyn away from all of us which would be good for us, including Samurdhi officers, journalists and dancing stars. Besides, that would also enable him to take care of young Malaka as part of his official duties, wouldn't it?
Now, I don't mean any disrespect to Maithri but I think the Ministry of Health should change hands too. In fact, he has been taking a lot of blame for the dengue epidemic, so why not have someone else to do his job now?
I was thinking of appointing Duminda as the Minister of Health, Mahinda maama. Why, the efficiency with which he had his medical care organised for him in Singapore amazes me. If he can achieve at least a fraction of that for the rest of us, he would make such a wonderful Minister of Health!
Of course, Duminda does say that he cannot remember anything but I'm sure that won't be that much of a drawback. Having plenty of brains was never an essential requirement for a successful minister, and it certainly isn't in your government, is it, Mahinda maama?
Yours truly,
Punchi Putha
PS-I know that there has been some speculation about the Prime Minister's job as well. Now, if it is your policy to reward the person who has helped you the most by appointing that person Prime Minister, you would still have a tough task choosing between Uncle Ranil and young Sajith aiya for this job!
Follow @timesonlinelk
comments powered by

Disqus