Assad Waheed, brother of Maldivian President Mohamed Waheed, was jeered at and nearly assaulted during a heated standoff with pro-democracy demonstrators outside their embassy in Bambalapitiya on Friday evening.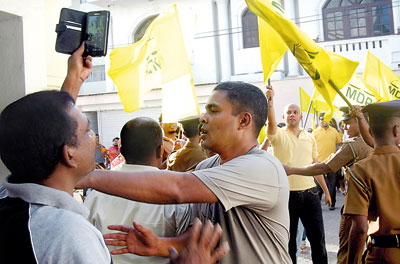 The scuffle that broke out when Assad Waheed attempted to take pictures of the protest on his ipad. Pic by Nilan Maligaspe
The incident broke out when the Maldivian President's brother attempted to film the demonstrators. The timely intervention of the police prevented the situation from turning ugly, the embassy's Defence Attaché Mohamed Mukthar said.
He conceded that the demonstration started on a peaceful note, but turned nasty when Mr. Waheed attempted to film the gathering, with no harmful intention. "It was all a misunderstanding, and the matter is settled now. We are grateful for the local police, for, if they had not intervened, anything could have happened," Mr. Mukthar said.
The President's brother was visiting the embassy at the time of the protest, he added. Imran Cader, a spokesman for the protesters, said that the President's brother had unjustly provoked the incident by attempting to film the crowd, and by making nasty remarks.
"We all know that democracy is in the doldrums under the present regime in Male, and photographs of demonstrators could end up in police files, with the threat of reprisals to follow", Mr. Cader added.
"It was a peaceful protest. We intended to press a message back home, that democracy is in peril in our country. This did not need any filming on the side of the government," he said.