Eighty people dead in the first half of this year alone and the number of reported cases topping nearly 15,000. This is the trail of destruction left in the wake of the deadly dengue reaching near epidemic proportions with hospital beds overflowing with stricken patients.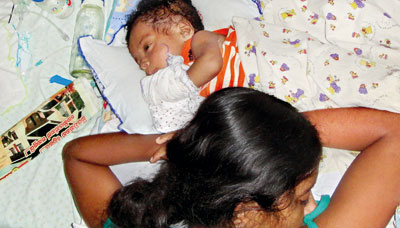 A tired mother of a little victim of dengue at the LRH falls asleep by the bedside. Pic by Indika Handuwala
The death of an employee of the Foreign Employment Bureau (SLFEB) in Battaramulla and the temporary closure of the Asgiriya Maha Pirivena in Kandy following several novice monks coming down with dengue were the most recent episodes related to this mosquito-borne disease.
Manjula Padmaperuma (39) a mother of two was among 30 others, most from the same division in the SLFEB, who were hospitalized for dengue fever. A spokesman for the bureau K.Ramanayake said they had about 800 employees and others in institutions like the Central Environment Authority (CEA), Registrar General's Department, Juvenile Courts, Coconut Development Authority, in the vicinity were also vulnerable
About 15 novice monks at the Asgiriya Maha Pirivena were admitted to the Kandy Teaching Hospital and were diagnosed with dengue. The temple was closed indefinitely. According to Kandy health officials military personnel involved in construction work at the temple site were also down with fever.
The dengue mosquito, an urban dweller has claimed the highest number of victims from the Western Province—46. Of the total, 26 deaths were reported from Colombo District, 14 from Gampaha and six from the Kalutara district. This is followed by 3157 cases reported from Colombo district, 2,197 from Gampaha and 805 from the Kalutara district.
Western Province Health Director Amal Harsha de Silva said bus depots, schools, dump yards, abandoned buildings and properties were leading the way in mosquito breeding sites and relevant institutions should be more vigilant about their immediate surroundings.
Many institutions pay little heed to air-conditioner trays, gutters, garbage collection, construction sites and blocked drains that are major breeding spots, Dr. de Silva pointed out, adding that many settlements along the coastal areas have become dumping grounds for discarded containers and tyres that are attracting mosquitoes.
"These mosquitoes are swept into the city with the winds," he said. In March this year, Presidential Secretary Lalith Weeratunge issuing a notice to ministry secretaries, chief secretaries, district secretaries, governors, heads of corporations, boards and divisional secretaries stated that it had been brought to his notice that many state institution premises were breeding mosquitoes.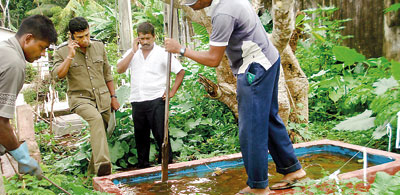 Officials checking a dengue-breeding site at a cemetery in Beruwela. Pic by S. Siriwardene
He had instructed each institute to setup a separate unit that would submit updates to the Presidential Secretary, the Health Ministry or the Provincial Health Ministry. Meanwhile, hundreds of patients stricken by fever are flocking daily to the National Hospital OPD, seeking treatment. "Since January 1117 dengue patients have been admitted to the National Hospital. At present 75 patients are being treated for dengue. Among them 17 are being treated for dengue haemorrhaging," Director Anil Jaasinghe said.
Of those who have died of dengue, 24 percent are between the ages of 5-15 years, with children being the most vulnerable to both viral fever and dengue.
At the Lady Ridgeway Childrens' Hospital 1591 dengue patients have been admitted since January this year, with nine of them dying of the disease. "Usually there are about 60-70 patients daily in a ward and now it has gone up to about 100-120 patients," Director Ratnasiri A.Hewage said.
He said if a child falls sick with fever it is important to seek medical care immediately and that if the fever does not abate in three days a blood test is a must to determine whether it's dengue or not. "There is a viral flu outbreak as well and as the initial symptoms are similar it is important to be vigilant.
A majority of children suffer from symptoms of fever, vomiting, headache, behavioural changes, spots on the skin, body ache," Dr. Hewage said pointing out that the nine deaths in the hospital were due to delayed treatment.Meanwhile Health officials and entomologists have warned that the disease would reach epidemic proportions by the end of this month, especially with the onset of the monsoon.
The monsoon rains invariably trigger an outbreak of dengue and as the mosquito flies in a 150 yard radius it is important to keep the surrounding environment clean, Colombo's Chief Medical Officer Pradeep Kariyawasam said.
He said hospital authorities should be extra vigilant about mosquitoes in the premises as dengue patients are being treated thereby making other patients and employees vulnerable too.
Those suffering from viral fever or dengue fever should have plenty of bed rest, nutritious diet and lots of fluid. However, drinks and food with red and brown hues should be avoided. Dr. Kariyawasam stressed the importance of controlling the fever with paracetamol while avoiding medicines such as asprin and brufen.
Dr. Kariyawasam also said as there was a pandemic situation, it was important to seek advice from a qualified medical practitioner especially if the fever lasts for more than two days.
2.5 b people infected worldwide: WHO
According to the World Health Organization (WHO), some 2.5 billion people – two fifths of the world's population – is now at risk from dengue. WHO also estimates that 50 million people are infected with dengue worldwide every year.
High risk areas at a glance
Colombo District: Dehiwala, Kolonnawa, the Colombo Municipal Council area, Moratuwa, Nugegoda, Kaduwela, Maharagama, Kotte and Homagama and Piliyandala
Gampaha District: Wattala, Dompe, Ja-ela, the Negombo Municipal Council area, Biyagama, Gampaha, Mirigama and Minuwangoda, Seeduwa and Mahara
Kalutara District: Beruwala, Panadura, Matugama, Kalutara and Walallawita
Kandy District: Gampola, Kurunduwatte, the Kandy Municipal Council area and Wattegama
Matara District: Matara PC
Galle District: Galle Municipal Council area,
Jaffna District: Point Pedro
Mannar District: Mannar
Kurunegala District: Alawwa
Killinochchi District: Killinochchi
Batticaloa District: Batticaloa
Puttalam District: Nattandiya
Kegalle District: Ruwanwella and Rambukkana
Ratnapura District: Pelmadulla and Balangoda