Road deaths caused by buses are on the rise, with at least one of eight deaths caused by private or state-run buses. Latest statistics compiled by the National Transport Commission (NTC) for the first three months of this year, reveals at least 63 road deaths were caused by private buses and 14 road deaths caused by State-run buses.Last year, of the 2,471 road deaths, 401 were caused by buses, of which, 321 were by private buses.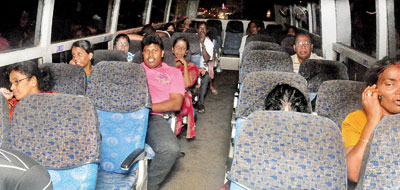 One of the buses that was Jaffna bound and had no destination board was stopped and checked on the Kelani bridge. Pix by Mangala Weerasekera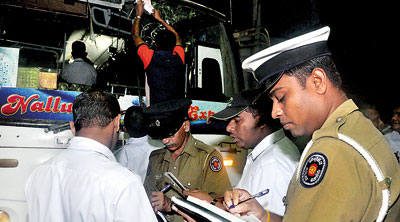 During the first three months of this year, there were also 163 serious accidents caused by private buses and 42 caused by State-run buses, while a further 284 persons received minor injuries from road accidents.
Between January and March this year, 378 private buses and 128 State-run buses were damaged due to accidents. In 2011, of some 6,675 serious accidents reported in the country, 623 involved private buses and 173 involved State-run buses.
NTC Chairman Roshan Gunatillake told the Sunday Times that in view of the increase in accidents caused by private and State-run buses, it is intended to carry out a road safety programme for bus crews.
"Our aim is to improve discipline of bus crews to reduce the number of accidents," he said.
Mr. Gunatillake said that among the reasons for the high number of accidents was that, the buses travel at excessive speeds, competing with each other, and drivers displaying sheer carelessness when they pick up and drop passengers.
"There are a number of deaths caused when passengers fall off buses when they are boarding or getting off the bus," he added. Mr. Gunatillake added that mechanical defects in buses or other shortcomings also contributed to accidents.
"In some instances, the brakes were faulty, or the tyres worn out, or parts badly in need of replacement, malfunctioning, adding to the problems," he said. He said that one-day workshops will be held at district levels, with the assistance of the police. The first was held in Nuwara Eliya last week.
The NTC said that, among other measures was the introduction of a points system for drivers, where points accumulated up to a stipulated level for offences, could lead to the cancellation of the licence issued by the NTC.
Meanwhile, Private Transport Service Ministry this week stepped up raids on private buses operating without route permits, as officials believe that this was also one of the reasons leading to accidents.
Minister C.B. Ratnayake told the Sunday Times that some of those operating without route permits, do not have a proper licence or are not qualified to drive buses.
"Passengers travelling in these buses are not covered by insurance and will not be entitled to any compensation in the event of an accident," he said. Minister Ratnayake, along with a team of officials, visited some of the areas on Thursday where private buses were checked, to determine whether they were operating with route permits.
A team from the Sunday Times witnessed the Minister speaking to passengers who were in buses without route permits, and explained to them the gravity of travelling in such buses. One of the buses stopped on the Kelani bridge, was Jaffna bound, when it was checked. The bus did not have a destination board and had issued tickets not authorized by the NTC.
The passengers told reporters that they did not board the bus from a bus terminal, but were collected at a point away from the terminal and transported in vans to the bus. Minister Ratnayaka said that the NTC will continue to carry out these raids for the safety of the public.
Since May 24, some 100 such buses have been detected, with 85 of them operating between Jaffna and Colombo. Nine were operating between Colombo and Batticaloa.