Barely a week after authorities alleged sexual abuse within the Colombo Campus, the Government yesterday distanced itself from this claim, while students accused the State of framing a story aimed at damaging the image of 'rights' groups within the country's universities.
Higher Education Minister S.B. Dissanayake was last week quoted as saying that four female freshers had been sexually molested by senior male students at a darkened location inside the Arts Faculty at the Colombo University.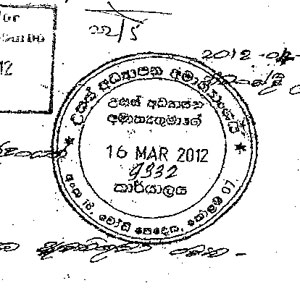 The letter that has created a controversy
His claim was based on a letter purportedly written by one of the victims, giving details of the alleged incident, and urged the authorities to find and punish the culprits, before such incidents become commonplace.
Colombo University Vice Chancellor Professor Shenika Irimburegama conceded that the letter was a fake, and apparently, created by certain individuals with political agendas, but stopped short of naming any person or group.
She said that, at a time when the university was progressing without any major incident, unlike issues that have rocked similar institutes in other parts of the country, there is a conspiracy to disturb the peaceful atmosphere in Colombo, with such tactics.
Higher Education Secretary Sunil Jayantha Navarathna blamed student groups linked to the pro-left Janatha Vimukthi Perumana (JVP) for circulating this particular letter to the authorities, in order to create confusion and hatred among the undergraduates.
Bulk of the sadistic ragging within universities is also carried out by these same groups who now fear they are losing ground, with the emergence of several anti-ragging student groupings. He also said that, certain elements with subversive intentions may have even infiltrated his Ministry.
Meanwhile, a frontline student group, affiliated to all the universities in the country, yesterday charged that the Government, with ulterior motives, was behind the recent scam, in order to damage the reputation of student rights groups operating within the universities.
Sanjeewa Bandara of the Inter University Students' Federation (IUSF) said that the relevant authorities were finding ways of building a case, where they could outlaw student groups and pave the way for a free run, in collaboration with their lap dogs.
"It is well known, both within and outside the universities that there are certain individuals and tiny groups which are Government proxies who could make up this kind of allegation with the aim of tarnishing the image of the student movements.
He also cautioned that there are moves by the authorities to outlaw student movements within universities, thereby stifling the rights of undergraduates, and they could use allegations of this nature to further their agendas.
At the centre of the controversy is the handwritten letter in Sinhala dated April 4, 2012, sent to the Higher Education Ministry. However, the endorsement by the Ministry is dated March 16, 2012, which indicates that the letter was authored even before the so-called incident at the Colombo University.
When the authorities were confronted with this error, they claimed ignorance and refused to comment further.