Police probing last Tuesday's failed early morning bank robbery in Battaramulla are trying to establish whether it was the same gang that had broken into the same bank branch six months earlier.
SI Piyal Gunatillake, Thalangama Police Station crimes division officer-in-charge, told the Sunday Times that in both instances the same approach was used. In the first robbery, the gang had removed collection boxes put out for charity. But on the second occasion, the robbery was foiled by a group of young men driving past the bank in three-wheelers at the time.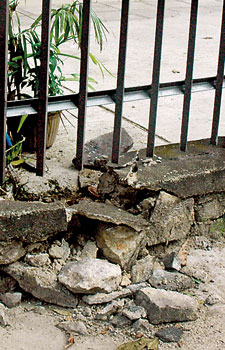 The place where the hand grenade exploded
Describing the incident, Sadeep Ratnayaka, one of the young men, told the Sunday Times that he and his companions were driving along at two in the morning when they noticed a three-wheeler parked outside the bank, opposite Sethsiripaya.
"The driver was revving the engine as if he was having difficulty starting the vehicle. As we continued on our way we heard the sound of shattering glass. We swung round and raced back. Meanwhile, one of us called the emergency service," Mr. Ratnayake said.
"The driver of the stalled three-wheeler had taken off. We saw a figure hiding near the ATM machine. The man ran off down a narrow passage. We gave chase and overpowered him. For our luck, a patrolling police Jeep had stopped outside the bank. We handed the man over to the police and said we thought there were others inside the bank.
"Just then a man rushed out of the bank holding up a grenade, which he flung at the Jeep. The grenade hit the vehicle, bounced off and exploded near a wall. Fortunately there were no policemen in the jeep."
The Police opened fire, killing the man. He was later identified as R. Mahesh, a 22-year-old soldier based at an Army camp in Ariyalai, Jaffna. The soldier had been on leave. The arrested man was identified as S. Tharuka, a 23-year-old Army deserter.
The three-wheeler driver who had escaped later surrendered to the Thalangama Police. He was identified as Malith Chathuranga, 23, a welder.
According to SI Gunatillake, the soldier and the Army deserter had said they were desperate for money to pay off loans. The three men had met the day before at a hotel in Koswatte to plan the robbery.
SP Ajith Rohana said the young men who had helped to foil the bank robbery would be duly commended and rewarded.