When Arjun Coomaraswamy received emails from friends sharing the same link to a YouTube video called 'Kolaveri Di' he knew the song had gone viral. "Everyone was talking about it in the Asian community in the UK and understandably so, because it is so catchy," he told Mirror Magazine in an email. The tune stuck in his head and Arjun ended up recording his own version of the song and writing new lyrics which retained "the original theme of heartbreak."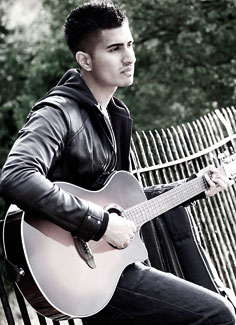 His song, written and recorded in a day and accompanied by a video made by his friend Hasinth Pathirana, became an overnight sensation. "I was totally shocked," says Arjun, explaining that he watched in disbelief as the hits racked up, leaping from one million in six days, to two million in two weeks, to over three million in a month -the video now has over six million views. Soon he was getting calls from Anirudh, the producer of the original song to say he really liked Arjun's version and Dhanush, who sang the original, also praised his remix in several interviews.
In fact the remix received many a notable mention in media outlets ranging from CNN, NDTV and Star News to newspapers like the Times of India and the LA Times. It has changed Arjun's life – the gigs have poured in and he will be appearing in US, Canada, Malaysia and New Zealand next month.
Though 'Kolaveri Di' catapulted the young artist into the spotlight, he's actually been in the wings for a while now. Earlier this year, two of his singles made it into the first ever Asian Music Chart on mainstream UK television. His song 'Stargazer' was voted the number two song in the chart - beaten only by the legendary A.R Rahman's group, 'Super Heavy,' which boasts of musicians of the likes of Mick Jagger and Joss Stone. 'Stargazer' was also remixed by the renowned producer Rishi Rich, who is credited with launching international R&B star Jay Sean.
In the three years that he's been 'taking music seriously,' Arjun's been nominated for 'Best Newcomer' at the Brit Asia Music Awards, and the album which he produced for his friend Shivali with Sony India was nominated for two awards at the Global Indian Music Awards (GIMA) 2011: 'Best Fusion Album' and 'Best Debut.
The singer, songwriter and producer of Sri Lankan descent, moved to London when he was four years old. He studied architecture at Cambridge and has a diploma in Music Production and Sound Engineering. Today he works with the New Media Marketing Division at Unilever.
But he remained passionate about a career in music throughout. Having learnt to play the piano, guitar and flute at school, he then taught himself the drums and bass. Now, he writes and produces many of his own songs. Arjun says his passion for music is something he inherited from his mother: "I've had a passion for music from a young age, largely thanks to my mum, who plays the piano, and loves jazz and classical music - as well as rock music!" he says. "My dad is not a big music fan but he is a great sportsman. My brother and I owe our love of cricket to him." His family is an important part of his life and Arjun is a frequent visitor to Sri Lanka, where his grandmother lives. "I love being back, and the relaxed atmosphere is a welcome relief from the busy lifestyle in London."
Having met Iraj here and Bhathiya and Santhush in London, he's also keen to collaborate with local artists. "I think Sri Lankans are on the whole very musical - they love to sing and dance at the drop of a hat!" he says.
Arjun himself loves R&B and says that he loves the "chilled out groove" of artists from the late 90's and early 00's. It's not the expected route – "one of my musical peers summarized it well: 'We are brown people singing black music in a white country'," says Arjun. It explains why some of his biggest successes have come from remixes of South Asian songs that have really helped him capture an international audience. "Being of mixed Sinhalese/Tamil parentage and having lots of Indian and Pakistani friends, I have learnt to appreciate the music of different Asian cultures," he says.
This year will be a landmark year for Arjun, who plans to release his new album by the end of summer. His long term goal is to open a production house and a creative studio for songwriters. "My aim is to make music my full time job, and I think I am almost at the point at which I am able to do that."