Saturday morning at the Park Street Mews is hectic. It's only 9 a.m., but already about 100-200 people are running around with maps and backpacks, prepping themselves for the We Did It! Amazing Colombo City Romp. The one-day Amazing-Race style romp through Colombo saw contestants taking part in challenges and quizzes, using basic common sense to navigate their way through Colombo in a never done before competition.
There are many groups of people taking part in the event. Friends, family, colleagues, couples and even children have signed up to pit their collective wits against other teams. "The competition hasn't even started, and I'm excited already!" says Anouchka, 31, who is here with her partner. "Just seeing these people running about is enough to get you on a high."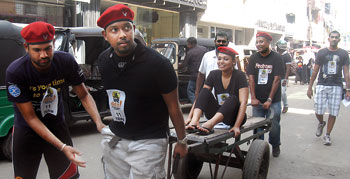 The B team on the move. Pix by Nilan Maligaspe
Graham Brownlie, a chief organizer, briefs the participants before they start off. They are instructed to stick to directions, complete Checkpoint Challenges, and not attempt to cheat. "Now don't try to bribe our tuk tuk drivers to help you out," he admonishes with a grin, "we've got them well briefed and warned. And have fun, that's the main point. You've got five hours-it's not a race against time, so take your time with these challenges and make sure you know what you're doing."
And off they go. Each team receives a map of Colombo, a Colombo City Passport that allows them easy access to places, a list of Know Your Colombo questions, a set of clues for their challenges, bus route, tuk tuk points, and luckily enough, a romp goodie bag! Suhail and his team start off at the Gangaraamaya, where they count the number of Buddha statues there (the total was 86 by the way).
From there they move on to Pettah, determined to find the old Brandix warehouse-a task that proves more difficult than they initially thought. Here they have two challenges to complete-one is to pick a ball of thread from two. Sounds easy? The other half of the challenge involves the boys walking around Pettah to find the exact match for it! The next one is aptly called the Naattami challenge-this involves being carted around Pettah, guided by a naattami.
Next it's on to the Commons, where the team have to identify the national gem of Sri Lanka (Blue Sapphire), and another stone named the Padmaraja. Having successfully completed this, it's a mad dash to Independence Square, where they must complete the daunting task of running around the square in less than two minutes. The So You Think You Can Dance challenge at the square causes much hilarity-doing the Kandyan is a first, and doing it for an audience is a definite first.
Archery plays a part as well-each team member takes a shot at hitting the target at the Colombo Archery School at CR&FC. Then off they go to the Sandwich Factory, which Suhail laughingly describes as 'pure torture'. Two trials await them-one to study a burger for five minutes and identify the ingredients, and the other to gobble six chicken wings-generously doused with the tongue-burning Mexican chilli sauce Hadeneros. The Hilton proves to be a less torturous challenge-here they are to sample chocolate and tea and identify flavours, and this is accepted with a certain sense of relief! The last of the challenges, named Stroll At The Park, requires participants to identify the Mayor, who has his own fun avoiding them in the crowded park!
The challenge part of the city romp over, each team must answer a set of questions about Colombo. For example, did you know that Gangaraamaya was home to a statue even smaller than your nail? Interesting stuff, and the participants emerge with a much better understanding of their city than they went in with!
The five allotted hours of the romp done with, everyone heads back to the Park Street Mews to tally their points, and find out if they made it. The winners in the Family and Friends Category are The B Team Squad who win a two night stay at Jims Farm Villas. Corporate Category winners TNL Newsradio win a night at Jungle Beach Hotel on the East coast's Kuchaveli and dinner at the Hilton Colombo's Spices, while student winners the Rugrats get dinner at The Bayleaf. Some interesting prizes for spirit, honesty and fashionistas are given away as well- amidst it all, Colombo Bunnies win the overall race, bagging two nights at the Palagama Beach Hotel and dinner at the Hilton Colombo as reward.
Over 300 people in 68 teams have officially taken part in the first-ever Colombo City Romp, the organizers say. Tired but exhilarated participants wax lyrical about the event, with one couple even proclaiming it did great things for their relationship! Fresh from the face of success, the organizers are already lining up another city romp-this time in Galle. So keep your eyes and ears open people-Galle is just waiting for you to get lost in it.