When Wendy Perera stepped into her first pair of ballet shoes at the age of five, she was told that learning ballet would help with good posture.
At 23 years of age Wendy vividly recalls her beginnings in dance- "I used to tell my mother that I would forget everything else when I danced. It was and always will be my little 'happy place'," she says. Doing what her own teachers did in creating her happy place, Wendy now has her own dance studio- and eagerly looks forward to its second production- 'Snow White: The Fairest of Them All'- to be held at the Lionel Wendt on May 19 and 20.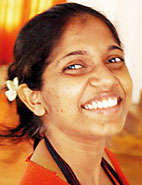 Wendy
"To me," says Wendy, "Snow White is one of the first fairy tales (due to the Disney animation) that brought children into a fantasy land and teaches the moral of beauty within versus vanity. It is also very suitable for children to perform and is not one of those ballet classics which I personally don't like to adapt from the original form."
The show will feature 100 of Wendy's students, aged 4 to 15. A particularly special part of the performance for Wendy, lies in the fact that her teacher- Hannelore Imig- Jayasundera will be performing as the wicked queen.
"It was thanks to her," recalls Wendy, "that I had the right encouragement to consider dancing as a career. I was 14, and I had just danced at a school ballet production, performing a main solo on pointe. After the show, she spoke to my parents and encouraged them to look into ballet for me as something more than a past time. My parents were very open-minded, and took it very seriously- beginning to look at avenues I could take."
Having taught for two years, Wendy is confident that dance and teaching will continue to be a big part of her life. She says, "Ballet is the foundation for almost all western genres of dance. But it is the gracefulness that it entails that I love, because it always tries to achieve that ethereal quality. It incorporates your whole body and requires a certain aesthetic which if not trained when young is not possible to achieve later on: co-ordination, musicality, stamina and a smile to cover it all up!"
The performance will feature the traditional story of Snow White, but with a few twists in the tale. "There is no set music score for Snow White as it is not a ballet classic," explains Wendy, " so I have incorporated music from varying artists such as the classical Mozart and Strauss to more contemporary artists like Yanni, and even a piece from the soundtrack of Batman."
The show will also have a small second half after the interval which will incorporate dances from character, hip hop, jazz and contemporary representing a season as its base. "As dancers you have to always be adaptable and being able to do other genres is an important part of training," declares Wendy. " I myself will be performing a contemporary piece which I created along with Kiho Tanaka who will be dancing the lead role of Snow White."
Proceeds from the show will go towards the Children's Home- Home of Hope. Tickets for the show priced at Rs. 1000, 750, 600 and 500 will be available at the Lionel Wendt.